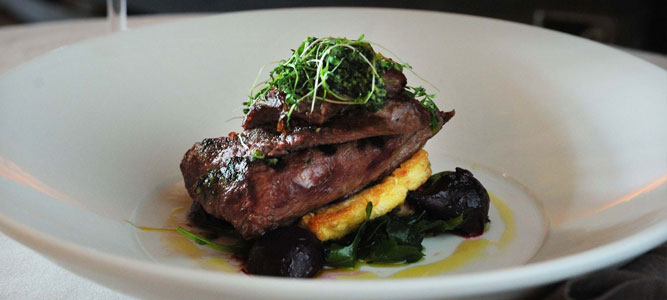 Tea Smoked Duck Breast
Tea Smoked Duck Breast, with Spiced Cauliflower and Sticky Orange Sauce
Tea Smoked Duck
6 Duck breasts, skin scored
100gm jasmine tea leaves
100gm Demerara or brown sugar
100gm rice
Line a wok with foil. Combine tea, sugar and rice, add to wok and place over high heat. Brush duck with oil. Place on a rack in wok. Cover with a lid or foil and smoke for 8 minutes. Turn off heat and leave for 5 minutes.
Spiced Cauliflower
2 Tablespoon vegetable oil
1 cauliflower, trimmed and cut in to florets
1 large brown onion
4 large tomatoes, deseeded and diced
3 cloves garlic, finely diced
½ knob ginger, finely diced
2 red chillies, deseeded and finely diced
1teaspoon Tumeric
1teaspoon Ground Cumin
1 cinnamon quill
100ml Water
100ml cream
100gm roasted pistachio nuts, roughly chopped
Juice of 1 lemon
Heat oil in a pan add onion, garlic, ginger and chilli sauté for 5 minutes then add the cauliflower pieces , tomatoes and spices and cook for 2 minutes, add water and cream and cook over low heat until cauliflower is tender but not falling apart.  Add nuts and lemon juice and season to taste.  Keep warm for serving.
Orange Sauce
60g caster sugar
¼ cup red wine vinegar
2 cups orange juice
1 cup chicken stock
Zest of 1 orange
50g of butter, diced
For the orange sauce, place sugar in a cold pan and melt it down slowly (careful not to burn it). Then add vinegar and simmer until sugar is dissolved. Add orange juice and reduce by half. Then add the stock and reduce by half.  Add zest and blend the sauce with the butter and seasoning.
To serve
In a hot pan seal the duck skin side down until skin is crispy, turn over then in to a hot oven for about 10 minutes the duck should still be pink inside.  Rest the duck for about 5mintues then slice in half on an angle.  Sauté  some baby spinach in a little butter then place in the middle of each plate, top with the spiced spinach then top with the duck drizzle some of the orange sauce over the top of the duck.  Garnish with micro herbs.