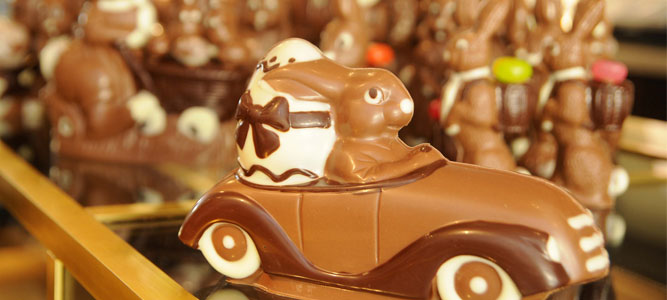 A Chocolate Revolution
It may be a petite, hole-in-the-wall style shop, but Cocobean Chocolate in Launceston has a big, burly reputation as the city's own chocolate institution. Locals and visitors alike get their chocolate fix from behind the counter of this boutique establishment located in the heart – or perhaps that should be stomach – of Launceston's CBD.
Cocobean was founded in 2008 by Rick and Theresa Streefland, who carried on in the tradition of the Swiss Chocolatier that existed in the George Street site before them. The family brought a flair for creativity, enterprise and vision to the business, qualities that have seen it take out countless small business and food awards, the most recent being three gold, 12 silver and two bronze medals at the Royal Hobart Fine Food Awards last year.
Originally, all chocolates were handmade upstairs above the 17-seat café. However, demand for the Cocobean products became so great that the Streeflands decided to build an off site commercial kitchen, custom designed to their needs, enabling greater production capabilities and employment opportunities. Since the completion of this development in July 2011, Cocobean products have been supplied to gourmet delicatessens, providores and specialty shops. Demand is such that the Streeflands are hoping to open another store in Launceston and/or Hobart in the not-too-distant future.
Theresa, manager and chief chocolatier, says that Cocobean's philosophy remains "small batch" married with old-world techniques.
"We never make things a year in advance and we don't mass produce. We're happy to make small batches week by week so that our customers are getting the freshest chocolates," she said.
Theresa's vision is that people experience the decadent product on more than one level: taste, aroma, texture, presentation and education.
"Chocolate is more than confectionery," she insists.
Cocobean uses only the finest ingredients, including couverture from Swiss company Felchlin, which has an outstanding reputation for supporting all people involved in the chain of cocoa production. So, whatever the choice from Cocobean's menu – hot chocolate, handmade truffles, chocolate mousse, chocolate taste plate, chocolate milkshake, chocolate ice-cream – the selection is guilt-free.
Every staff member is a professional in the area of chocolate and is more than willing to educate customers on the quality and process behind the products. They understand that not everyone knows the significance of `65% Maracaibo single origin chocolate'.
However, it's only a matter of time, Theresa believes, before people will know chocolate like they know wine. They will select it for its origin and the quality of the beans. They will use words like "full-bodied", "fruity" and "robust" to describe its aromas, and they will allow the taste to languish on their tongues before sending it to warm the heart and belly.
Read more about Cocobean in the Autumn 2013 issue of Tasmanian Life Magazine
Words: Claire van Ryn
Images: Supplied