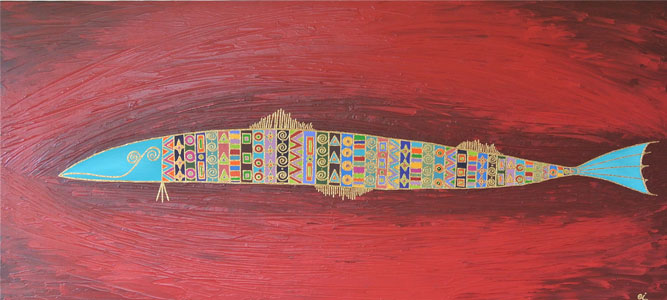 Ornella Imber
Ornella Imber is an artist who lives on the idyllic east coast of Tasmania. And If you have ever
visited this picturesque part of the world it becomes obvious where Ornella gains her inspiration. Vibrant colours, delicate patterns and sweeping textures are the artistic tools that help to create paintings of exotic beauty. Peace and harmony are her parameters. With painterly exuberance she produces images that will brighten any space.
Being of Italian heritage, an extended European trip as a child with her family exposed Ornella to the art of the masters. It was a far cry from the art offered in Brisbane in the 1980s. But this trip ignited the fires within her soul and from then on she knew that she was a painter. She knew that what she would do when she grew up was to be a painter and that what she wanted to paint were pictures that made people smile and be happy.
Ornella's passion for art led her to learn more at universities in Queensland and NSW where she chose painting as her major study. More overseas travel and an adventure to Tasmania sealed her fate as someone who belonged in Tasmania. The east coast seemed like the right place to live, marry and begin family life. Ornella says her two sons are her most precious pieces of work, invaluable and definitely not for sale!
The main influences in Ornella's art are Gustav Klimt (because of his use of pattern, colour, intricate detail and feminine beauty), Frida Kahlo and Van Gogh, who play their part by offering their painterly qualities and for the healing that art can bring.
Ornella firmly believes that art can play a large part in helping people to heal both physically and spiritually. This comes from personal experience as well as some study on the topic. After the birth of her second son Ornella became intolerant to many foods, became fatigued and was struggling to manage these challenges. She found that throwing herself into her art helped to relieve some of the suffering and made the journey to becoming well again much easier.
Read more about Ornella Imber in the Autumn 2013 issue of Tasmanian Life Magazine
Words: Claire Andrews
Images: Courtesy of the artist