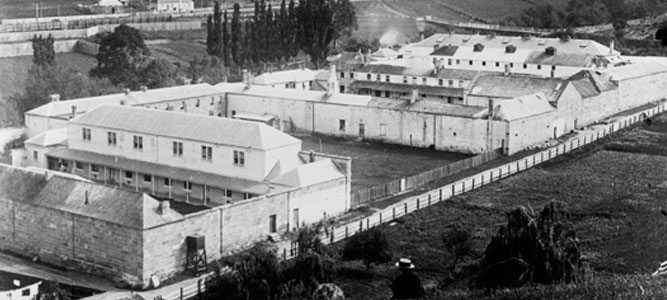 Tasmania's Female Convict Heritage
On a recent Sunday afternoon a 'motley' group of women walked the main street of the colonial township of Ross dressed in long cotton skirts, Shetland shawls across their shoulders, Victorian mop caps on their heads and Ray-Ban sunglasses covering their eyes—the 21st century embodiment of Van Diemen's Land's 19th century convict women.
The women are members of the Female Convicts Research Group (Tasmania) Inc., and they walked along the main street of Ross, skirts swishing, shawls floating in the warm breeze, headed for the site of the former Ross Female Factory which from 1848 to 1854 had processed thousands of women transported to Van Diemen's Land, providing "a complete institution for the exploitation of female convicts in the service of the great houses of the Midlands," as one of the group's members, James Parker says.
Lucy Frost, editor of a book about the female convicts at Ross: Convict Lives at the Ross Female Factory, told a gathering of locals—landed gentry and descendants of convicts alike—that the members of the Female Convicts Research Group were resurrecting the lives of the convict women for a present generation. "It's very hard to imagine what it was like here, with hundreds of women and their children living in what is today a paddock, but these stories help," she said.
So, who are these women—and men—who are so willing to dress up, to tread the footsteps of convict women through painstaking archival research and write books about convict women, who make pilgrimages to the sites where convict women made their mark?
The Female Convicts Research Group (FCRG) was started in 2003 (as the Female Factory Research Group) by two dynamic women—Alison Alexander, a fifth generation Tasmanian and one of Australia's most respected historians, and Emeritus Professor Lucy Frost, former Professor of English at the University of Tasmania, the author of one of the most significant Australian books on women's history, No Place for a Nervous Lady. Frustrated by the paucity of knowledge about Tasmanian convict women and the perpetuation of myths at convict women's heritage sites and in the wider community, Alison Alexander and Lucy Frost decided to act by establishing the research group.
Lucy and Alison have overseen the evolution of the group from those early days when they met at each other's homes, to now holding regular seminars and workshops at which the group provides new members with archival research skills, showing people how to interpret archival material and how to add information to the database. "We now have a very public international presence through our fabulous website [www.femaleconvicts.org.au.], created and maintained by one of our most dedicated members, Trudy Cowley," Alison said.
Database on Female Convicts
"Since new members can sign up through the website, we have had about 600 people, mostly from Australia, but also from Canada, China, France, Germany, Ireland, New Zealand, South Africa, Spain, the United Kingdom, and the USA register as members," Trudy Cowley said.
When Trudy reflects on her involvement with the FCRG, she says the Paul Kelly song, From Little Things Big Things Grow, comes to mind. Trudy's interest in convict women began some 15 years ago when she started doing her family history and enrolled in an Adult Education course. Today she is the Publications Manager for the Convict Women's Press Inc., Website Manager and Database Administrator for the Female Convicts Research Group (Tasmania) Inc., and author of A Drift of 'Derwent Ducks'. "From starting off 15 years ago to research my ancestors, I now maintain a website, publish books, administer a database for an international project and am involved in giving talks and interviews on female convicts. From little things big things grow!"
Today the database contains information on all the female convicts who lived in Tasmania, 13,720 of them!
Another of the 'motley' assortment of women recently traversing that well-worn bridle path at Ross was Colette McAlpine, a retired teacher of English and history who joined the group in 2007 after a 30-year teaching career. "I saw an advertisement on line and it sparked my interest," Colette said. "I had began working part-time and I attended one of the lunchtime meetings. I was hooked from that moment.
"We started transcribing from the original convict records, then on microfilm. We worked in a tiny room at the Cascades Female Factory in the cold and damp. It was a realistic experience. Eventually the conduct, indent and description lists went on line through the state library and transcribing changed. We could do it at home, in the warm!"
Colette is now the principal trainer and supporter of volunteers for the group and runs workshops and trains people and supports them on line and over the phone. "We have volunteers across Tasmania and on the mainland. And we also have volunteers in Spain and France and Scotland."
One Scottish member told Colette he "knew a bit" about convict records as he used to work for New Scotland Yard and had recently retired as head of immigration in Scotland! Other volunteers transcribe surgeons' reports and newspaper articles and, as Colette said, "all of their work adds to our understanding of convict lives and the convict system".
Colette admits that convict research is addictive. "Since I retired, I can spend eight to 10 hours a day researching convict women. I am never bored. I am addicted. I work with a stimulating team of volunteers and we socialise as well as research. Many of us meet for lunch, coffee, or wine to discuss our ships and our women. Some of us have extended our skills, writing for the Convict Lives series. All of us learn something new each day. And we share it – with each other and with the greater community through our website."
The database is a rich resource for historians, family historians, medical researchers and the public, and the research group collaborates with various organisations including the State Library of Tasmania, UTAS and Melbourne University, The Cascades Female Factory Historic Site, Port Arthur, and the Family History Society.
"Instead of monthly meetings, we now hold seminars where members give papers on research projects in a supportive, nurturing and yet still academically sound environment. At our last seminar, people came from as far as north Queensland to hear stories of our convict women. Our next seminar will focus on the work convict women did both in the colony and before transportation. There is so much to learn," Colette said.
At the rear of the 'motley' band of women wandering the hills of Ross on that November day was James Parker, dressed in a well-loved captain's jacket and colonial captain's hat. He looked the very part of a dissolute colonial out to charm the 'wanton women'.
James, who is completing a PhD through Riawunna at the University of Tasmania, is also a performer with a special interest in colonial history. He runs a boutique tourism business on the Tasman Peninsula taking visitors on gourmet tours of the heritage sites and entertaining groups with his wealth of knowledge on Tasmania's maritime and colonial history.
"The research group is a fantastic forum for anyone with a passion for Tasmanian convict history. It doesn't matter what your qualifications are. We work well because we are a diverse group, and there are people of all ages. So if you have an interest in convict lives then this is a great group to be involved with," James said.
Anyone with an interest in convict history is welcome to become a member of the research group. The website address is: www.femaleconvicts.org.au.
Words: Dr Nicola Goc
Images: Danny Taylor