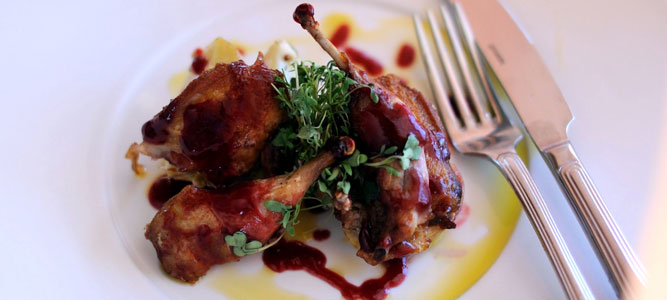 Spicy Crispy Skin Quail
Spicy Crispy Skin Quail, with Potato, Tarragon and Mustard finished with Sticky Plum Syrup

Serves 6
Quail Marinate
1 packet of quail, each quail cut in half
100ml Vegetable oil
6cloves Garlic finely grated
10gm Cayenne pepper
Zest of 1 lime
50gm Ginger, finely grated
Mix all ingredients into the oil and add the quail and let it marinate for at least 2 hours.
Potato, Tarragon and Mustard Salad
500gm pink eye potatoes
Fresh tarragon, finely chopped
100gm whole egg mayonnaise
1 tablespoon whole grain mustard
Seasoning
Mustard crest – micro herb
Scrub and boil pink eye potatoes until tender, refrigerate until needed. The potatoes need to be cold for this dish. Mix tarragon, mustard and seasoning into the mayonnaise and keep aside ready for plating.
Sticky Plum Sauce
1kg Dark plums, checks cut off
2 onions, finely chopped
½ cup red wine vinegar
5 star anise
660 gm (3 cups, firmly packed) brown sugar
Place all ingredients, except sugar, and 1 cup of water in a large saucepan, bring to the boil over high heat, reduce heat to medium and simmer for 15 minutes or until soft. Add sugar; simmer for another 10 minutes, then discard star anise. Process plum mixture in a food processor until puréed, then strain through a fine sieve into a clean saucepan. Cook over low heat until thickened.
To Serve
Seal the quail skin side down until the skin is crispy turn over and finish in the oven for 6 minutes, let the quail rest for a few minutes when it comes out of the oven. While the quail is resting mix the potato and dressing together. Place a few potatoes in the centre of the plate, top with a few mustard cress. Pull the leg away from the breast meat and sit the quail atop of the potato. Drizzle with the plum sauce and top with more micro herbs. Finish with a splash of good olive oil.