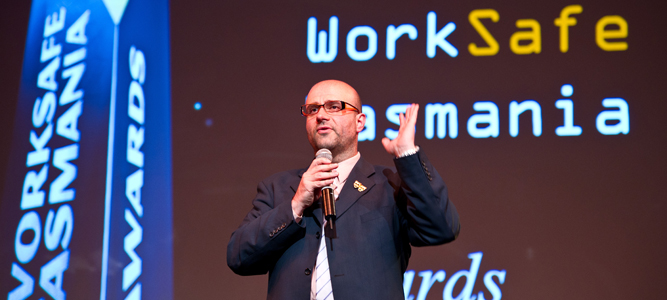 Saftey's Night of Nights
It was a cold, windy and wet October night in Hobart, but that didn't deter over 470 people from dressing in their finery and attending the 2011 WorkSafe Awards presentation dinner at the Hotel Grand Chancellor.
For many, the annual presentation of the WorkSafe Awards is an event not to be missed and 2011 was no exception. Local entertainer, John X, was a very capable MC and David O'Byrne, Tasmanian Minister for Workplace Relations, did a great job of presenting certificates and trophies along with shaking many hands and posing for numerous photos.
Now in their 16th year, the awards recognise Tasmanian businesses, organisations and individuals who are leading the way in work health and safety. There were seven awards categories this year, with categories 1–4 aligned with the national Safe Work Australia Awards, which are run annually by Safe Work Australia. Winners of these four categories in Tasmania are automatically entered into the national awards.
One of the guests at this year's Tasmanian awards dinner was Ricky Clifford, Principal of Clifford & Co Response Services. Mr Clifford's company won the 2010 'Best workplace health and safety practices in a small business' category in Tasmania and then went on to win the national award in the same category at the Safe Work Australia Awards.
"The national win was a delightful surprise. I only wish I could have taken all my staff with me to Canberra, because without their input and continued dedication, it wouldn't have happened," Mr Clifford said.
Clifford & Co, based in the Hobart suburb of Glenorchy, introduced a program to improve confined space rescue plans to assist rescuers to both safely and quickly rescue personnel from confined spaces. The new rescue plans resulted in reducing the time needed to perform the rescue and apply first aid, therefore reducing the potential severity of injury.
Hoping to repeat Clifford & Co's 2010 double win, was Briar Maritime Services of Ulverstone in the State's north-west. The company was named as the Tasmanian winner of the small business category for 2011 for developing a fatigue management program that is used as a predictive tool to allow management to reallocate work tasks and reduce risks to workers. Since implementing the fatigue management system, Briar Maritime has reported zero workplace injuries.
Other 2011 WorkSafe Awards category winners included Bonney Group for 'Best workplace health and safety management system (private sector)', Central Coast Council for 'Best workplace health and safety management system (public sector)' and Sibelco Australia for 'Best solution to an identified workplace health and safety issue'. In the 'Best individual contribution to workplace health and safety' category, Leigh Jordan of MMG Rosebery was the winner of the 'OHS not part of duties' sub category while Caroline Langley of Injury Prevention & Management won the 'OHS part of duties' sub category.
Bonney Group and Central Coast Council were named joint winners of 'Best injury management and return-to-work system' category, while Ecka Granules Australia took out the 'Best "new worker" program'.
The overall winner of the 2011 WorkSafe Awards was multinational food manufacturing company, Kraft Foods Australia. It won the 'Best workplace health and wellbeing program' category.
In January 2010, Kraft took over Cadbury, enthusiastically taking on the existing health and wellbeing program. Demonstrating its commitment to Cadbury's Fit for Life philosophy, Kraft decided to construct an onsite gym, which is now open 24/7.
Kraft also adopted this philosophy into its own health and wellbeing program which includes a Facebook page, blood pressure and glucose level monitoring, a walking group, life coaching and fully subsidised, quit smoking programs.
Kraft's Health Safety and Environment Manager at Cadbury, Ken Holmes, said that being named as a finalist in the category in the 2010 awards gave the company more focus and drive to succeed in 2011.
For those businesses whose entry was not successful, there's always 2012.
Words: Christine Bray