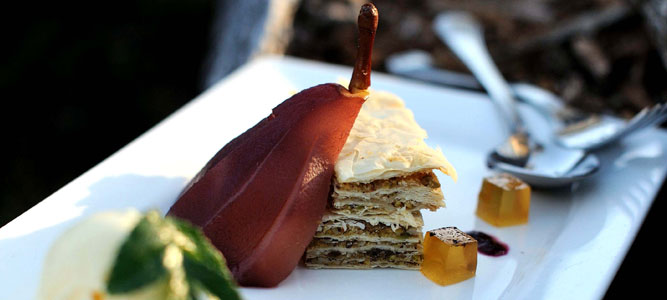 Cradle Mountain Baklava
Cradle Mountain Baklava, Elderflower Jelly, Poached Pear, Lemon Crème Fraiche
Baklava
12 sheets filo pastry
100 gm pistachio nuts
100 gm walnuts
100 gm almonds
200 gm melted butter
200 gm brown sugar
In a food processor blitz up pistachio, walnuts and almonds to a fine breadcrumb texture.
Lay one sheet of filo on a clean board, brush with melted butter then repeat with another layer of filo and brush with butter. Evenly scatter with nut mix and brown sugar and repeat with one more sheet of pastry, nut mix and sugar. Top with two more plain sheets of pastry. Cut into eight even squares. Place on a baking paper-lined oven tray and top with another sheet of baking paper and another oven tray. Bake on 175 degrees C with the fan off for 12 minutes. When cooked leave to cool then take out of tins.
Elderflower jelly
300 ml elderflower concentrate
200 ml apple juice
1 vanilla bean scraped
12 gelatine leaves
Soak gelatine in cold water. Heat elderflower, apple juice and vanilla in a pot until just boiling, add the soaked gelatine, pour into moulds. When set cut into cubes.
Tea Poached Pear
Remove the core of the pear and peel, leave the stalk intact
6 pears
4 cups water
1 cup sugar
6 tea bags
2 vanilla pods, split and scraped
1 cup white wine
1 stick cinnamon
In a pot bring the water, wine, sugar, tea bags, vanilla and cinnamon to the boil, add pears and cook until tender. Remove the tea bags once there is enough tea flavour.
Cool on a rack in the fridge.
Lemon Crème Fraiche Ice Cream
1 vanilla pod, scraped
2 lemons zested + juice
250 gm crème fraiche
10 egg yolks
100 gm sugar
n a mixer whip the egg yolks and sugar until thick and pale. Add the vanilla, lemon zest and juice and the crème fraiche. Mix until well incorporated. Pour mixture into a plastic container, cover and place in the freezer for at least eight hours.
To serve
Place the jelly around the plate, top the baklava with the sliced pear then top that with the ice cream. Finish with a little coulis around the jelly and some fairy floss.