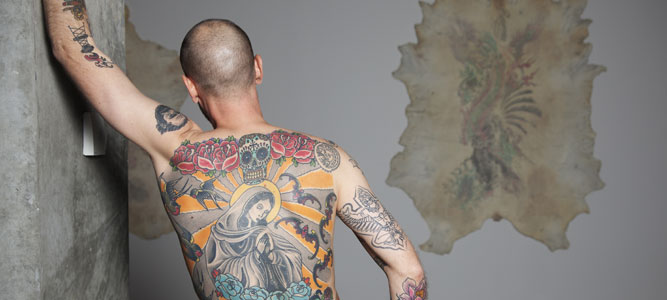 Wim Delvoye
More than simply providing the usual descriptions, dimensions and other details, The O also allows users to vote on those works that they either 'love' or 'hate'.
The standout of the 'hate' vote was Cloaca, by Wim Delvoye, a work that replicates the human digestive system. Interestingly, though Cloaca was amongst the most hated, it was also the piece that people spent the most time examining. Asked whether being hated can get you places at MONA, Senior Curator, Nicole Durling, explains, "It's extremes, isn't it? Hate seems to be a far more powerful driver for people to rally around and sprout out their opinions…Maybe we do thrive on things that push people's buttons because they seem to give a strong reaction as to why." Provoking reaction is a certainty with the collection of Wim Delvoye's work currently on display at MONA. A Belgian conceptual artist, Delvoye's work is visually dramatic and often controversial.
Within 12 months of opening, the Museum of Old and New Art (MONA) has made its presence felt not only in Tasmania, but also throughout the art world.
More than 390,000 people have visited MONA, making it Tasmania's most visited attraction – and it's easy to understand why. The museum space is spectacular, and purpose-built to house David Walsh's collection of contemporary art and antiquities. Every detail from works on display to the navigation devices used to identify and provide detail of the works on display, The O, makes MONA the exceptional experience it is.
The MONA exhibition demonstrates vividly how he has earned his reputation. Pigskins tattooed with Disney characters and other familiar imagery line the walls of one room. Adjacent to them, the live tattooed human subject, Tim, sits on a plinth with his large back piece on display. As an added complication, Tim's tattoo has been sold to a collector for $205,000. X-rayed rats re-enacting the Stations of the Cross and stained glass windows that superficially would seem suited to a church, exemplify Delvoye's use of religious imagery.
If you were one of the thousands who 'hate' Cloaca, you'll be pleased to know that there are now five more in the museum, including a convenient, portable model. Two of these are in operation. Delvoye's pigskins often provoke ethical questions. Despite tattoos being applied under veterinary supervision and, unlike most pigs raised for meat, Delvoye's are able to live a long life in humane circumstances, many people are challenged by the works. Durling reflects: "This is what it means to be human…
Being self-aware and having empathy is a major thing. I welcome people who question it because I think, well that's great, it means you're not a psychopath. It means you're human and it means you have empathy for other living individuals." Describing the appeal of Wim's work, Durling states, "Wim's work is immediately accessible because there is something familiar there…for Wim, everything is up for grabs."
Delvoye has not previously been shown in Australia to the scale and significance of the MONA exhibition. "There is…a really broad section of his work on display, going through a lot of his ideas. Some are just his more irreverent works, and some are dealing with far deeper issues," Durling said. Putting the show together came with a set of unique challenges, including the living element of the show. "We have three functioning, living entities [Cloacas], plus Tim, so that's four living entities that all have body issues that we have to deal with. You have to feed them. You have to keep them warm and look after them, and…sometimes they're having a bad day and…they have an emotional and physical outburst," jests Durling.
The Delvoye exhibition is a fantastic, visually satisfying experience that might also challenge your ethics and provoke you to reconsider what might otherwise be mundane. If you needed another reason to visit MONA, Wim Delvoye's your answer.
Delvoye's show runs until April 2, 2012.
Mona website www.mona.net.au
Delvoye website www.wimdelvoye.be
Words: Ella Woods- Joyce Images: courtesy of MONA