Volunteer Holiday
Stepping out of my comfort zone: Danang, Central Vietnam, May 2011

The following is an account of a traveller from Tasmania who took the 'Encourage Program' to Vietnam.
This and other volunteer travel programs like it are unique to Volunteer Holidays which is an initiative of the Travel Studio Hobart. Devised by the owner Leeanne Levett, Volunteer Holidays offers a truly unique way to experience the joys and rewards of volunteering abroad. On the Encourage Program travellers have the experience of seeing firsthand, what joy and relief their efforts can bring to the local people they are visiting, such as delivering 16 wheelchairs to handicapped children and teaching them how to use them, whilst staying in a five star resort with plenty of opportunity to lounge by the pool and sip cocktails!
Many people may not know that the Volunteer Holiday Encourage Program offers the best of both worlds. It offers luxury, which we all need from time to time whilst holidaying, but also well organised 'totally hands on' experiences that change people's lives for the better.
I awake with a sense of excitement. After breakfast with our group, we gather to be briefed on the day's activities. We are united by a common sense of purpose, and I can feel the connection between us. I feel we are all on the same journey of discovery.
Our group has purchased 48 piglets as part of a 'pay it forward' livestock program and are handing them over to farmers who are in need of a helping hand. For Vietnamese farmers, a piglet is like a bar of gold. Farmers breed from the piglet when it's old enough and sell the young piglets at the market, doubling or even tripling their family's income. Their only obligation is to pass one piglet onto their neighbour, thus 'paying it forward'. I can't believe how easy but powerful this concept is, and I feel thrilled by the ray of hope that such a practice offers. I am also excited that I will see it all.
We are picked up after breakfast and travel to Dai Luc on the outskirts of Danang. The scenery from the window is stunning and I soak it all in. It's quite moving to see the traditional scenes of the rice paddy farmer working tirelessly in the heat to feed his family. Someone on the bus tells us that they will earn about AUD$1 that day for their labour. The scene is so beautiful and typically Vietnamese, although it belies the realities of life in Vietnam.
After about an hour we arrive in the small, colourful village of Dai Luc. The school children are just heading home for lunch and smile as they pass us. We are clearly a novelty for them and they must wonder why we are here. They yell out "Hello" and "How are you?" in their best school English, giggling all the while. They all look so happy and are immaculately dressed in white uniforms with red neck scarves.
A truck rolls in with 48 squealing piglets in their individual wicker baskets. They are funny little things, black and white with little pink noses. They glance nervously around. The farmers who we are helping today start arriving too – by motorbike, bicycle and on foot, with looks of anticipation. I smile and greet them as best as I can in my dubious Vietnamese. Each volunteer then starts taking a piglet off the truck, which is not as easy as you would think, as they are quite heavy! The piglet is then handed over to a farmer. Four farmers (including the beautiful lady with her son, pictured left) lost everything in a typhoon last Christmas and are being given two piglets to help them start afresh. It's a hive of activity of squealing piglets, bikes and bustling farmers and I love every minute of this cultural snapshot. I am transfixed as I watch the farmers fasten the piglets on to the back of their bikes with ropes and zoom off down the road leaving nothing but a trail of dust. Our group waves them good-bye, knowing that we have changed the lives of these farmers.
Later by the pool, I wonder what tomorrow will bring. I'm sure there will be another adventure, and a chance to make a real difference to the lives of these people, who have left an indelible mark on my life forever.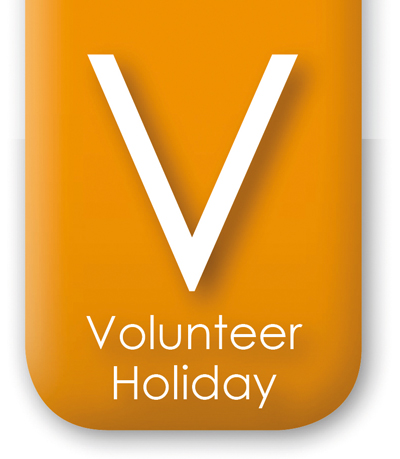 Volunteer Holidays has partnered with charity partners across the globe who work in orphanages, local villages and communities in education, rescue and conservation projects. Together we are so proud to now offer volunteer programs in 22 countries around the world.
Our Volunteer Holiday Vision is to promote compassion, gratitude and caring within our own communities and towards our global communities. We have created programs that are giving every-day people the opportunity to volunteer at their own comfort level. We want to give every volunteer a memorable and life changing experience. We want them to have a holiday with a real purpose and at the same time significantly increase the support to our volunteer partners.
Already, Volunteer Holidays has managed to raise over $55,000 which is donated directly to our Volunteer Holiday charities.
We encourage you to open your heart and mind to the world of volunteering. The happiness and fulfillment you will experience is truly life-changing.
Our Volunteer Holiday programs open the world of volunteering to everyone. Our programs aim to give you a real travel experience, not just a holiday! We have a range of programs designed to inspire everyone from independent travellers on a budget to the most discerning of travellers.


Tel: 03 6224 7444
Email: info@volunteerholiday.com.au
Web: www.volunteerholiday.com.au