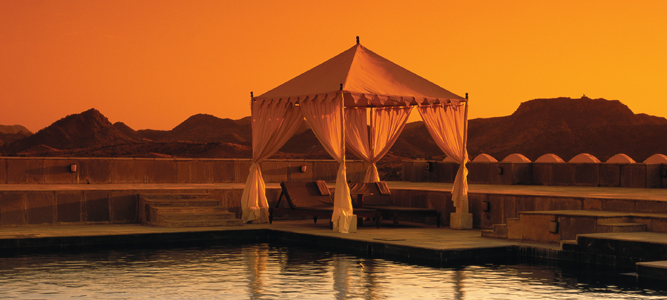 Travel Studio
If you had to pick three luxury destinations to visit this year, what would they be?
Tasmanian Life magazine spoke to Jenny Mitchell from The Travel Studio in Hobart and asked her about her pick. "Zanzibar is a stunning destination and one most people don't think of. You simply cannot beat African luxury! Rajasthan in India has incredible diversity. Think desert safaris, shining sand dunes and lush forests. For stunning views and Italian-style luxury, consider the Amalfi Coast in Italy," Jenny says. Here are Jenny's recommendations for places to stay in these deluxe destinations.
KILINDI RESORT, ZANZIBAR
Kilindi brings a welcome dash of pizzazz to the island of Zanzibar. Standing watch over the time-honoured Dhow Routes, along a crescent of coral-bright sand, each of the fifteen accommodation pavilions embraces cascading rainwater pools, lush tropical gardens and domed private spaces of rest, indulgence and wellbeing. Like many, the owners of Kilindi believe that high-yield/low volume tourism is the only way forward for tourism in developing countries, and that luxury in Africa is not something that can be commoditised and branded, it can only be experienced. Experience is the new luxury.
DEVI GARH HOTEL, RAJASTHAN
Nestled in the Aravali hills, the 18th century Devi Garh palace in the village of Delwara, forms one of the three main passes into the valley of Udaipur. After years of restoration and rebuilding, Devi Garh is ready for visitors. The fort palace was conceived as a place where the past meets the future. This all-suite luxury hotel has 39 suites, with an emphasis on design and detail, using local marble and semi-precious stones. The contemporary design showcased within this spectacular heritage property, complemented by personalised and intimate service, creates a new image of India for the 21st century.
HOTEL CARUSO, AMALFI COAST
A former 11th century palace set on cliffs beside the Amalfi Coast, Hotel Caruso seems to drift on a 'balcony' above the Mediterranean. Hotel Caruso is a triumph of the restorer's skill. Its ancient walls and fresco-covered ceilings have been carefully preserved to make it a work of art in itself. Stroll through the terraced gardens or lounge beside the stunning infinity pool. Take a boat trip to Positano or discover Roman Pompeii. Wherever you turn, both inside the hotel and out, a world of heritage, culture and beauty awaits.
For more information on the ultimate luxury holiday, talk to The Travel Studio on 03 6224 7444 or visit www.travelstudio.com.au