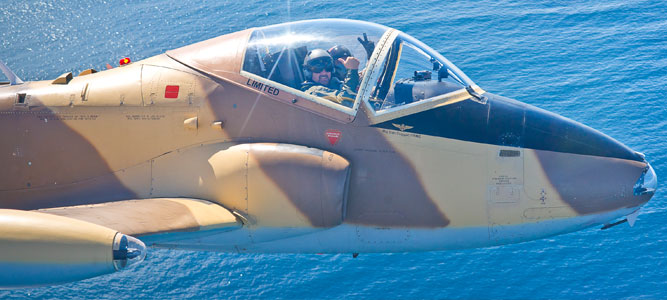 Top Gun Tasmania
Dan Duggan is a passionate man. The former major in the US Marine Corps with over 12 years experience flying jet fighters, met a beautiful Australian lady in Sydney and the two of them settled in our island state.
"It wasn't an easy decision", says Dan, "but it wasn't all hard", he says, surveying his surroundings.
When Dan moved to Australia he thought he might fly passenger aircraft, but soon realised this was not the job for him, and so he began to look at the possibilities of starting up his own business venture.
Consequently Dan became the entrepreneurial mind behind Top Gun, a successful Tasmanian business tailored towards the corporate market. Top Gun is based in Hobart and provides participants with the opportunity to truly experience the thrill of flying in a jet fighter plane.
With a highly experienced team of pilots and engineers at his disposal, it is hard to believe that such a skilled group of internationally trained people has gravitated to this small part of the world.
"This is without a doubt one of the most beautiful places I have been. It's not hard to be here", says Dan; "and I get to fly over it every day", he adds with a grin.
Top Gun operates with two planes, the British Jet Provost and the Chinese CJ6a 'Nanchang'.  These two planes are used to train air force pilots in combat and military manoeuvres, and the Top Gun team ensures that participants experience the magnificent capabilities of these flying machines.
Storm Bay, south of Hobart, is as renowned for its spectacular coastline as it is for its powerful weather. It seems to be the perfect location for Top Gun. I am in a small private plane flying over Betsy Island and waiting for the Top Gun team to arrive.
A streak of light indicates an object moving through the sky and as it comes closer we recognise the Jet Provost. The speed of the plane as it approaches is incredible and within seconds it's flying alongside us, before dropping out of the sky in a controlled manoeuvre. Momentarily the plane is lost before reappearing on our other side, with Dan grinning at us from the pilot's seat.
During the next ten minutes Dan and former German Air Force pilot, Holger Funken, flying the Chinese Nanchang, circle our plane and demonstrate the remarkable speed and manoeuvrability of their aircraft.
When we land, the excitement of the participants is palpable, and it is easy to understand the lure of this experience.
Speaking to Dan later, his passion for the job and his new home is obvious. "I love this place", he says, "but we need people in power to think laterally to help this State grow. Top Gun is unique in Australia, and our government should recognise this, and help this sort of small business prosper, or they will move on", says Dan emphatically.
Top Gun is based at Hobart Airport and operates throughout the State.
Ph: 1300 FUN JET
email: info@topguntasmania.com.au
Words and Images : James Emms