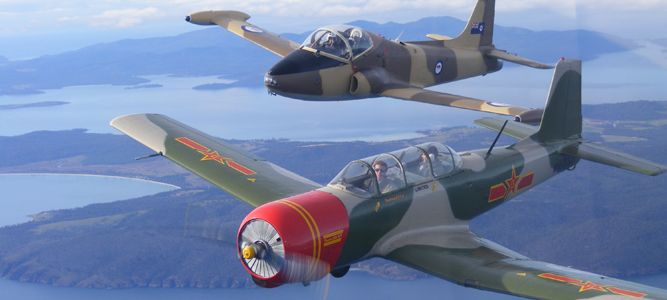 Top Gun Australia
Top Gun is Australia's premier adventure flight company. They offer adventure flights in high speed military jets and classic warbirds and have been thrilling passengers though the skies of Tasmania and mainland Australia for over 6 years. Top Gun is owned and operated by Daniel Duggan, a former US Marine Corps Harrier "Jump Jet" pilot, who retired to Tasmania when leaving military service in 2002. In fact all of Top Gun's piloting team is comprised of former fast tactical jet fighter pilots and they are the only company in Australia that guarantees all passengers fly with military fighter pilots. They believe this adds to safety and professionalism and the passengers really take comfort in the fact that they are being flown by highly experienced military professionals.


Passengers have their choice of high speed military jet aircraft, such as the British built "Jet Provost Mk5a" and the L39 "Albatross". Both jets are capable of speeds of over 750kph and of course just about any air combat aerobatic manoeuvre you can think of. They also experience high 'g' forces and the excitement and adrenalin factor is hard to match. They also have flights in propeller driven classic 'warbirds' such as the CJ6a 'Nanchang'. It is also fully aerobatic and capable of high 'g' forces. The breath taking Tasmanian aerial scenery comes as a bonus as all passengers are just blown away from the sheer beauty of mountains, peninsulas, islands, beeches, and stunning coastlines seen from the most unique and splendid perspective of all.
Top Gun also offers corporate "personal development" training where they introduce clients to fighter pilot mission management techniques that can be used to increase performance and efficiency in any workplace. Top Gun Australia flies year round, 7 days a week from Hobart Intl. Airport and Wollongong Albion Park Airport NSW.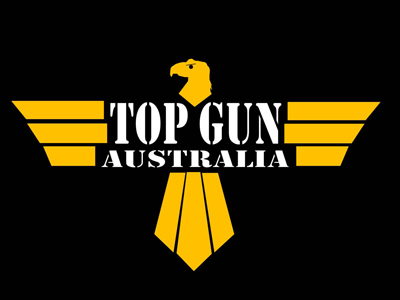 Hobart International Airport (HBA), Cambridge TAS 7170, Australia (PO Box 61 Richmond TAS 7025)
Tel: 1300 38 65 38 (1300 FUN JETs)
Email: info@topgunaustralia.com
Web:www.topgunaustralia.com