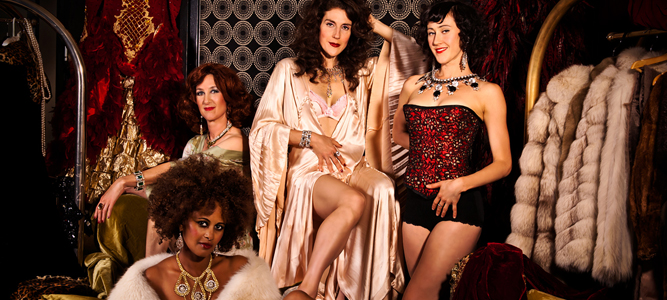 Theatre Royal 2012
Tasmanians may not be aware that 2012 is the 175th anniversary of Australia's oldest working theatre – the Theatre Royal. And for these 175 years, the Theatre Royal has significantly contributed to the cultural life and fabric of the Tasmanian community.
The founder of Cascade Brewery, Peter Degraves, brought together a group of Hobart businessmen who agreed to contribute to the purchase of land and the building of a theatre. Thanks to their enthusiasm, the foundation stone of the Theatre Royal was laid in 1834.
The Theatre Royal was designed by colonial architect John Lee Archer, who designed many other public buildings in Hobart. On 8 March 1837, the first performance was held there.
2012 – a very special year at the Theatre Royal
Since that time, many Australian and international performers have graced the Theatre Royal's stage, including Sir Laurence Olivier, Noel Coward, Vivien Leigh, Peter Ustinov, June Bronhill, Ruth Cracknell, Ronnie Corbett, John Bell, Cate Blanchett, Hugo Weaving, Charles 'Bud' Tingwell, Barry Humphries … and lots more.
Continuing this tradition of providing outstanding performances for Tasmanian audiences to enjoy, 2012 will be full of stunning shows. This includes Namatjira, from Tasmanian-based company Big hART, which tells the story of one of Australia's most well-known indigenous artists and his life.
There will also be the circus physicality of Circa, Rhinestone Rex and Miss Monica, written by Australian playwright David Williamson; burlesque for adults in Caravan Burlesque; the powerful story Bare Witness; and Tasmania's premier dance company Tasdance will perform Voltage. Instead of a work from the bard, this year the Bell Shakespeare Company will present Moliere's The School for Wives.
Theatre lovers can become subscribers at the Theatre Royal and these subscriptions offer a range of benefits and discounts. More information can be obtained from the Theatre Royal Box Office, 29 Campbell Street, by calling 6233 2299 or online at www.theatreroyal.com.au. The Theatre Royal has recently launched a new ticketing system, which allows patrons to select their own seats and to book their subscriptions on line.
In such a significant year in the history of the Theatre Royal, all Tasmanians are encouraged to come along to visit the theatre. Come and see a show, participate in a tour, and join in the fun of the Open Day. Make sure you don't miss out on the chance to be part of recognising the history and contributing to the future of the Theatre Royal.
Words and Images: The Theatre Royal