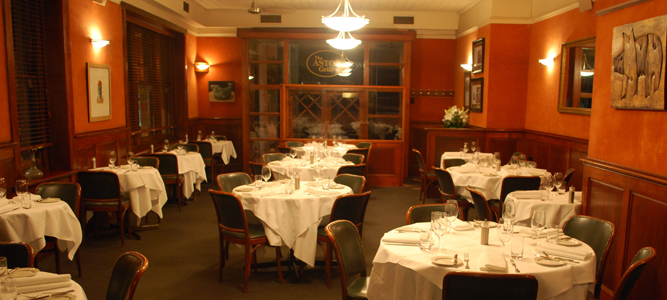 The Astor Grill
The Astor Grill, established in 1982, is one of Hobart's iconic restaurants, and this year will celebrate its 30th birthday. Renowned as a steak restaurant, The Astor Grill's menu has evolved in the past 18 months to offer an array of innovative modern Australian cuisine that is apparent in the current summer menu. Located at 157 Macquarie Street within a beautiful 1920s art deco style building, this elegant restaurant offers affordable dining complemented by warm and professional service.
Rocky Doniz, co-owner and manager for the past year and a half, is a well-known Hobart restaurateur, and no stranger to The Astor Grill, having previously contributed to its early success as a young man in his 20s. Spanish born, Rocky has worked in some of the best restaurants and hotels around the world, gathering a vast knowledge of food and wine which he enjoys sharing with staff and patrons alike. Since his return to the restaurant, he has built a passionate and dedicated team, reflecting his high standards of customer service. Rocky believes that dining out should be a great experience every time. "This is achieved by providing good food, prepared using the best available seasonal produce, and a commitment to professional service".
The restaurant's assistant manager Opeti Tuipeatau shares Rocky's enthusiasm and passion. Ope migrated from the Friendly Islands, is Drysdale House educated, and has accumulated years of hospitality experience in some of Hobart's prominent restaurants. This in turn ensures the front-of-house team is well informed about the finer details of the menu, daily specials and the extensive wine list.
The Astor Grill supports free range and organic produce, and sources the majority of its ingredients from local wholesalers and distributors from around the state, in order to provide superior quality all year round. For those followers of sustainability, the majority of the restaurant's primary producers are within 100 miles.
Classically trained head chef Shannon Pearce believes that Tasmanian produce is amongst the finest in the world, not to mention the obvious advantages in supporting local suppliers. Having been a part of the hospitality scene for the past thirteen years, and fulfilling various roles, Shannon has an excellent understanding and appreciation of quality food and wine. Shannon has worked interstate and at a diverse range of acclaimed restaurants. In his first year as a head chef, he won Queensland's Best New Talent, along with Best New Restaurant at the Australian Hospitality Industry Awards.
As head chef, Shannon brings to his role a depth of culinary skills and creativity that allows The Astor Grill to break new ground. His approach is to "treat the ingredients with the respect and dignity that such products deserve, and sacrifice nothing for quality and customer satisfaction, as this is the overall experience at The Astor Grill". For his kitchen, he promotes "a happy work environment, which then extends to the customer". His professional flexibility allows him to happily cater for the varying dietary requirements of the patrons. Because he has worked interstate, Shannon believes that "we have the culinary world at our feet." The availability of the freshest produce, delivered daily and served to the customer in all its freshness and pristine condition, "makes me proud to be in this industry".
The menu still includes such classic dishes as the rock lobster pate with black caviar, oysters kilpatrick, and Steak Astor (prime eye fillet with a Stilton cheese sauce), which appeared on the first menu. Famous for the steaks from the grill, other dishes from the innovative new menu are:
• Rump of lamb with an almond crust, pinot noir jus, roasted beetroot, parsnip puree and braised Brussels sprouts.
• Slow roasted pork belly with berry and pomegranate molasses sauce, sautéed green apples, potatoes and sage.
• Spatchcock and papardelle ragu with spatchcock reduction.
• Twice cooked five spice duck legs with aged soy and garlic sauce, braised red cabbage and sweet potato puree.
• Sticky sesame tempura prawns with lime, ginger and coriander dipping sauce.
• Oven baked honey brown mushrooms, caramelised onions and mozzarella with spinach and rocket pesto.
• House, hot smoked salmon salad with fennel, orange, baby capers, rocket and dill alioli.
Despite the new emphasis on modern cuisine, the servings have remained generous and affordable, with entrées starting from $15.50 and mains starting from $25.00.
The extensive wine list is designed to suit every budget. It features some of the most reputable wines from Tasmania, mainland Australia and overseas. The wines have been chosen specifically to complement the food and dessert menus. In the not-too-distant future a monthly winemakers' dinner will begin at The Astor Grill. It aims to bring together viniculturists from around the state together with food and wine lovers, to enjoy a degustation menu that will include carefully considered food and wine matches. Goaty Hill Vineyard in the state's north is already on board for the event.
The restaurant has two elegant dining rooms, which are ideal venues for any occasion such as intimate weddings, birthday parties, and business or board meetings. There is no extra fee for the exclusive use of the private function room, and menus can be tailored to suit any celebration.
Open for lunch Monday to Friday from 12 noon, a two-course lunch special for $34.00 is on offer as well as the a la carte menu. The special is a choice of entrée and main or main and dessert.
Dinner service runs Monday to Saturday, from 5.30pm.
For The Astor Grill's 30th birthday celebrations, Rocky and the team will be revisiting some of the most popular dishes from the past thirty years.
The Astor is open for Christmas lunch and New Year's Eve, and early bookings for these dates are essential to avoid disappointment.
For more information on the winemakers' dinner, the 30th birthday celebration, private functions, to make a booking or any other queries, visit The Astor Grill's website or contact Rocky and his team via email, phone or fax.
Website – www.astorgrill.com.au
Email – info@astorgrill.com.au
Phone – (03) 6234 3122
Fax – (03) 6234 3133