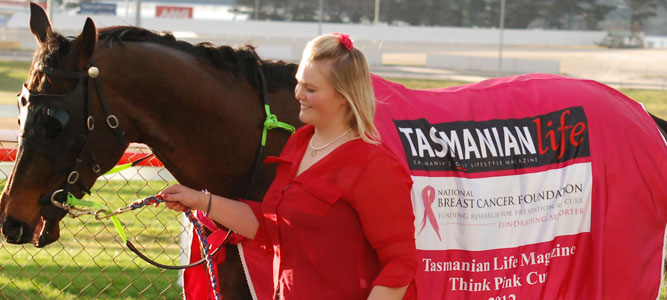 Tasmanian Life Magazine Think Pink Cup
Tasmanian Life Magazine was very proud to support The Breast Cancer Foundation on the fifth Think Pink Cup Day 2012.
Crowds gathered last Sunday July 22nd on a beautiful sunny day as hundreds flocked to support such a worthy cause.
It was a sea of pink in various shades as race goers gathered in the Members area for a beautiful buffet lunch and of course the main attraction the, Tasmanian Life Magazine Think Pink Cup.
The Race was run at 3.50pm with the winner being Turbo Qui, owners and trainer were delighted. Trainer Michael Voss with owners Richard and Lyn Latham and Mrs. C D Crooks and Mrs. M J Wells accepted the Cup from Tasmanian Life Magazine's General Manager Rodolphe Belin. In excess of $35,000 was raised on the day.
Organiser Judi Adams with her team of volunteers should be very proud of such a fantastic effort.