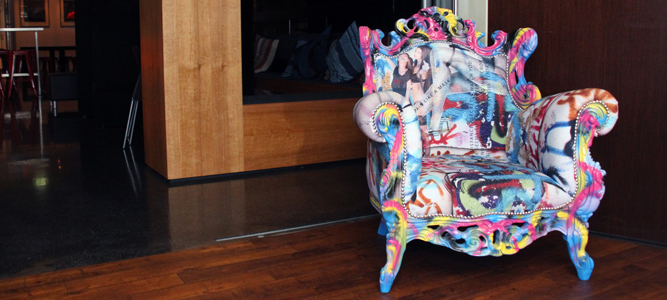 T 42 Tug Bar
One of Hobart's most celebrated waterfront restaurants, T42, is now even more exciting, with the opening of specialist bar, Tug. Inspired by the wharf surroundings, and particularly the tugboats, this new addition to T42 adds another dimension to the popular bar and restaurant.
Architecturally designed especially to fit the surroundings, the result is a warm and airy space in which to relax. Tug is embellished with exciting pieces of art and furniture that give it a sexy, modern vibe. Notable pieces include a vibrant chair made from recycled PET bottles, and an original John Kelly painting, the famed artist whose art is used for Moo Brew.
With gorgeous cushions and plenty of stylish nooks to sit in, the interior is a welcome addition to the already chic area. Tug is also an exciting addition for lovers of rum, with the counter already stocked with over 85 different rums, ranging from $7 to $90. Manager Tim Pattermann aims to extend this range even further, hoping to top 100 sorts of rum. He is introducing a leather-bound rum register, where patrons can browse the many different kinds of rum, and keep track of what they have and have not tasted. Tim says his interest in rum stems from its huge variety and depth. "People like looking at where all these different rums have come from, and the difference between, for example, one from Jamaica and one from Venezuela," he said. "There's so much to it now. You can really become a connoisseur of rum."
While the warm, artistic atmosphere of Tug exists with a sense of being a private space, nextdoor at T42 feels much more like a public space. The restaurant and bar is soon celebrating its 15th birthday, and continues to be an iconic Hobart dining experience. Serving breakfast, lunch and dinner every day of the week, the fusion of Australian and international flavours has helped to push the tavern to the forefront of dining experiences.
The fresh and flavourful food served attracts both locals and tourists. One very popular dish is the pan-fried ricotta gnocchi, which is combined with roast tomato and capsicum sauce, and nestled on a bed of rocket, olives, capers, and basil. There are succulent meat selections and vegetarian selections, as well as exquisite fish, fresh from the ocean.
Summer is the perfect time to try one of these delicacies, perhaps served with a glass of wine from the extensive range. Diners can choose to sit outside and take in the sea air, or relax inside in the comfortable and friendly ambience.
The renovations of T42 and the stylish Tug have extended the popular hotspot to create a chic space that at once feels both public and private, yet invites you to try new exciting tastes while still holding on to the classic.
Words & Images: Morgan Barnsley