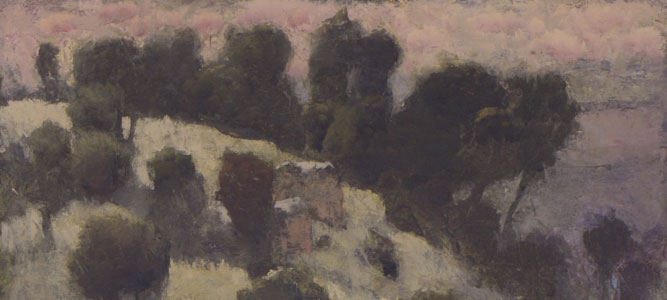 Stephen Lees
Stephen has been exhibiting his paintings as far back as 1974 when he was only 20. One of Tasmania's foremost landscape painters, Stephen won the coveted Glover Prize in 2005 and was highly commended in 2008.
On November 11th he will present his work for exhibition again at Colville Gallery in Salamanca Place. In fact Stephen had landscape paintings at the National Art School when he was just nine. He says this was a defining experience, leading him to see himself as a painter from an early age. "It was what I was going to be, and it was central to my identity throughout my school years."
Editor Claire Andrews chatted to Stephen about his painting career. His answers are insightful and quite poetic at times as he describes his love affair with paint and the Tasmanian landscape…
How would you describe your love of Tasmania? What are the things that you love most about it and what motivated you to move here permanently?
I came to visit painter Peter Gouldthorpe for six weeks in 1976 and stayed six months. I was totally taken with the amazing landscape of the north-west. It was the cold I fell in love with, especially in the mountains. It was euphoric. As a painter it's the geology…the foundation for the diverse landscapes of this small island. I think it is unique in this regard – the pink granite of the north-east, the red basalt soils of the north-west, the white quartzite peaks and ravines of the south-west. It's the moody dolerite columns of the south-east coast and central plateau. This is iconic Tasmania but, maybe ironically, I live and mainly work along a little stretch of pale mudstone cliffs south-east of Hobart!
Could you describe the progression that has evolved to create the style of your work and subject matter that you now paint?
Most of my work is landscape based. The surfaces are often built up quite slowly in a succession of opaque and transparent layers, as was the practice from the 16th to the 19th centuries, but the actual space is much more 20th century in its concern or awareness of the picture plane; the real surface of the painting. I use these older techniques to enable a more complex, subtle and emotive response to the subjects I choose to paint.
As you are known to love painting outdoors, how do you think this direct approach affects your work as opposed to painting in a studio?
In 1979 I inherited a beautiful old landscape easel from an uncle…I took it out on covert missions to paint the burnt angophoras and sandstone ridges, after the bad fires around Sydney that year. Covert, as I was at 25 at the time and it was the height of the punk era and there was something very tartan rug about this activity. Still amid all the vagaries and vanities of contemporary art, this simple act of engagement with the outdoors felt to me to be nothing short of redemptive. In the main though, it just sat there for another ten years, until I began to take it on my winter break to Tasmania to go painting in the central highlands with a friend…fingerless gloves, small tin cups of port etc. This same friend, Peter Gouldthorpe offered me free board in his house so I returned to Tasmania for good, to try and make a living from painting. If you spend too much time in the studio you start talking to yourself… a stylistic monologue sets in, but going out and having to come to terms with different places and spaces demands different formal responses and solutions, and it is this dialogue that I find so rejuvenating.
What do you love most about the medium of oil paint?
The smell of distilled turps and linseed oil in my auntie's studio is where my love of oil paint began…and since getting my first set when I was 12, it is all I have used until branching out into gouache in the 1990s for health reasons.
Firstly there is its tactility…it provides the right resistance. [Mind you, you have to pay for that these days, as even once reputable brands now often have the consistency of toothpaste.]
Secondly it doesn't change tonality as it dries…that is crucial.
Thirdly it takes its time to dry…there is time to get back inside it, before it sets.The negative is the diluents are toxic and it gets worse over time, especially if you are a messy painter. It began having a physical and mental effect on me…so I began taking intermittent refuge in the water-based paint, gouache, in about 1994.
How different is this medium to painting in gouache?
Gouache is the simplest of paints. It dries fast and flat. Its unique and redeeming feature to me is that you can reactivate the surface simply by wetting it. Its beauty lies really in its chalkiness, and if you need deeper tones or richer colour it's totally compatible with watercolour, which can provide these things.
What are the future directions of your work, and do you think that landscape will be the predominant subject matter?
I will always work with landscape, but in the future maybe not so exclusively…I was fortunate enough to find myself all alone in the Scrovegni Chapel in Padua one sunny morning…the light coming off Giotto's frescos was powdery and almost phosphorescent…I'd love to scale up my water-based paintings using a fresco [marble- based] type ground to achieve even something of the quality I saw that morning. It was miraculous. Pure light.
Do you find that the experience of the intellectual process associated with painting and creating is something that is uppermost in your mind when painting, or do you think that it is a more subtle automatic response to stimuli such as mediums and subject matter?
When I address a subject I am concerned not just with the innate qualities of paint but also paint's long and rich history. This very knowledge mediates my decision to paint this or that subject. It is largely an intellectual decision. Once the process of painting begins however, the relationships quickly become too complicated to make 'rational' decisions about…they become intuitive. I don't see these things as qualitatively different – they are just two points on a grey scale of types of decision- making. I could be perceived as naive…but I am well aware of the mega visual world in which we now live and the technology. I choose to work and live the way I do because I love the process of painting, especially working outside with good quality brushes and paint. It is what I would do if I won a million dollars tomorrow, and I believe good paintings to be unique among things…as vessels capable of holding the human mind and soul in the most subtle and complex way. I think there is still a lot of life and potential in these handmade images even in the 21st century.
Words: Edited by Claire Andrews
Images: Courtesy of the Artist