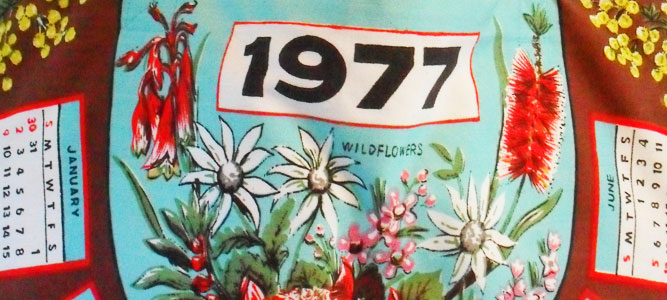 Shall Design
An emerging Tasmanian designer talks design, textiles and artistic inspiration
 The design scene in Tasmania is steadily growing, as more artists are emerging with a slew of creative, well-made and locally inspired pieces. Enter Sue Hall; a skilled designer with years of experience and textile experimentation which have resulted in an unorthodox range of products including everything from furniture refurbishment and floral design through to jewellery and clothing.
Sue's signature style is reflected in carefully chosen fabrics, loud colours and cheeky Tasmanian references. She has always been, by her own admission, "random, before it became fashionable". Her work entertains elements of whimsy and fun, within a framework of "classic line and function".
Sue recently opened the boutique shalldesign in Hobart, and I was curious to learn more about her journey to becoming a designer.  Here, Sue talks about artist inspiration, textiles and a flying visit from an international rock star!
When did you first begin to work in design?
I completed a degree in education (after failing my law degree – lack of application said the dean; lack of inspiration, I said) and then had a brief career teaching Design in Wood before starting a family. I have always been interested in interior design and have been a dressmaker since I was given a treadle sewing machine for my sixth birthday. So when a friend suggested that I work for Laura Ashley as their soft furnishings and dress designer, I jumped at the chance. It meant I could work from home and care for babies, but also indulge my creative side.
I eventually developed my own client base and worked from home for a number of years before going back to teach for one year (which became fourteen). I taught Design in Wood and Housing and Design with great enjoyment and satisfaction, but at the end of last year I pulled the pin in order to pursue my design urges.
I set myself a goal of an exhibition of my furniture designs for July 2010, which I held at the Sidespace Gallery, Salamanca Arts Centre. It was a successful venture and gave me the confidence and impetus to search for a showroom/studio where I could work and show my designs to the wider public. I opened my studio in early November of that same year and the business has been very well received.
What is unique about your design aesthetic? How would you describe your signature style in terms of colour, textiles and themes?
I like to use materials in unexpected contexts. My jewellery uses safety pins, jigsaw pieces, zip sliders and pulls, my childhood dominoes, rubber bands and Anaglypta wallpaper. I use appalling but beautiful Australian souvenir tea towels to cover old armchairs, lamps and cushions. I also make gorgeous skirts from tea towels, which have been particularly well received, especially my ones with the map of Tasmania strategically placed in front. My mum is a bit horrified at those, but people think they're hilarious and I've had to sew more to keep up with the demand.
My furniture makes people go "wow". It makes them laugh or just look amazed or happy. I use colour and pattern unexpectedly and unconventionally, but it seems to work. I always choose older furniture that is comfortable and well designed, and prefer furniture that is not too bulky, because the visual impact is pretty big already. Anyway, people don't always have huge spaces to fill.
What inspires you to design?
I have always had a great visual memory and images that excite me remain with me for years, even when I forget what I did this morning! My biggest inspiration for exciting and different furniture came from a visit to Liberty in London a few years ago. Nobody stopped me taking photos of the most extraordinary pieces I had ever seen and the impact has never left me.
My work continually evolves and I never make anything twice. A new fabric can inspire a new chair design at any moment and I have a whole shed of old chairs just waiting for the chance at a new incarnation. A client may have a lovely old armchair that they would like me to re-cover and nothing makes me happier than being given a brief where they give me a 'flavour' of what the chair might look like, and then let me run with it and finish it on my own terms.
The tea towel furniture range is called 'Slightly Mad'. I also have the 'Pretty Gorgeous' and 'Provenance' lines.
The 'Pretty Gorgeous' range uses fabrics I collect from around Australia. I am a big fan of Florence Broadhurst, so I sometimes use her fabrics when I can get them. I love Marimekko fabrics, leather, bus destination blinds and eccentric fabrics featuring text or advertising. If I need something special I will paint my own design.
The 'Provenance' chairs are a particularly classic style, covered on the arms and seat with sturdy leather, and the rest is covered with a strong cream canvas that has the client's story hand-painted in decorative text. I have made ones with the name of the family house, the address, the family name, and the date the house was built, painted on the various panels of the chair in the same colour as the leather. I can imagine this range adapting well to a corporate situation with a business, hotel or gallery working with me on their own design.
What is your workspace like? 
I have worked in a lovely big room at my home for a long time, but the opening of my studio at 246 Elizabeth Street, Hobart, has allowed me to show and sell my work on a bigger scale than ever. Its position seems to attract people who drive past and see the windows and come back a couple of days later because they are intrigued by what they have glimpsed. Parking is accessible and really only the nicest people come in!  I have had a website (www.shalldesign.com.au) since the middle of this year, and it would seem to be a vital tool in developing credibility and a presence in the global marketplace.
What medium of design do you enjoy working with most?
I love interior and clothing design, and floral design even more. I have done some lovely weddings, including my son's. I get great pleasure from interpreting clients' ideas and seeing their delight at the realisation of their imaginings, whatever the medium. My work seems to have developed more along the lines of the work I stock in my studio, so I am delighted to go with the flow.
What has been a memorable experience during your work as a designer?
My most international glamour story comes from a charming lady who dropped in and spent about forty minutes trying different 'Slightly Mad' chairs for reading comfort. Eventually she made her choice and selected two skirts (including the map of Tassie) and two bags. She asked me to organise to send her chair to America.
I later discovered that she was an actual rock star – from the New Pornographers, no less! I felt very cool by association.
You can view Sue Hall's full range of designs on her website: www.shalldesign.com.au
Words by Grace Robinson