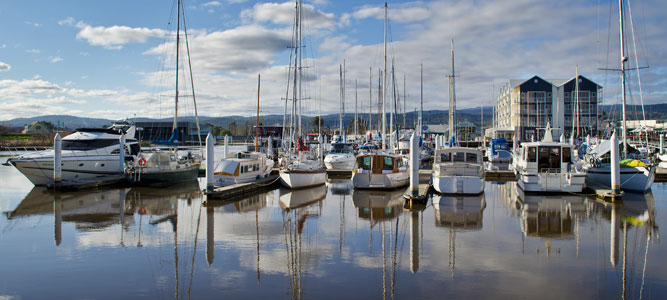 Seaport
Whether it's the cyclists who stream in for a mid-morning coffee on their weekend ride, the early morning joggers getting the best view of the sunrise the city has to offer, the Hawks fans stopping in for a pre- or post- game drink during footy season, Launceston locals enjoying some of the best dining the city has to offer, or tourists taking advantage of the boardwalk that leads all the way from here to the gorge, you will always find Seaport a hive of activity.
Since coming back to Launceston in October, the Seaport area has been our home-away-from-home (or perhaps more appropriately) our office-out-of-the-office. Working long hours from our home studio often means needing a change of scenery to keep the creative juices flowing and to enjoy a breath of fresh air. Luckily for us, Seaport has proven to be the perfect place for both of these. It serves as the perfect respite for a midday cup of coffee to fuel a brainstorming session about current projects, or a comfortable yet classy space for a meeting with a client. On those wonderful Tasmanian days when the weather gods are shining down on this island, we have been known to imbibe in a quiet glass of wine on the boardwalk at one of the fine restaurants.
Seaport is a protected space along the waterfront that offers a magnificent view and an almost sudden feeling of serenity, yet it's nestled just 500 metres from the Launceston CBD. During the summer months, the sun on your face as you walk along the boardwalk simply can't be beaten. In the winter, the crisp fresh air is just the boost you need after being cooped up inside. The design of the district makes the restaurants, hotel, and shops serve as a buffer between you and the noise just beyond the embankment. While the ease and convenience of the city and highway are right there, it's easy to forget their presence once you are walking along the Tamar and enjoying the view.
The marina at Seaport has 90 berths and caters to vessels up to 30 metres in length. On many days we have sat and dreamed about the lifestyle of sailing into the marina for a stay. Such an idyllic port to sail into! With all these amazing restaurants (literally at your doorstep) and even a spa, you may just find yourself staying longer than you had intended.
The centrepiece of the district is the stylish Peppers Seaport Hotel featuring 60 deluxe rooms and suites. Each suite has its own private balcony, taking full advantage of the fabulous viewpoint. It's the ultimate location for a great weekend getaway, even if you live in Launceston. Why not book a night or two to pamper yourself and enjoy the luxurious accommodation?
Speaking of pampering, if you are looking for that additional touch of peace and relaxation, welcome to Mud Urban Day Spa. They offer a range of treatments from a manicure to pedicure, to full body massages. Or, if you want to feel refreshed and fully rejuvenated, indulge in their 'Spa Dreaming' package for a three-hour luxury treatment.  It includes a Himalayan salt scrub, detoxifying mud wrap, and a Vichy shower water massage followed by a full-hour massage and a facial – the perfect way to spend an afternoon.
As for the options for eateries, there are plenty! We won't claim to have dined at them all yet, but I can assure you we've stalked the menus while walking by. Here are the details of some of our top spots.
First, a near daily stop for us is at Cube for quick cup of coffee or tea, and a white chocolate and raspberry muffin for a treat! We've actually been here enough for the employees to become personal friends and most know what we want before we even approach the counter! If you are looking for something a bit more filling, they have a fabulous selection of salads, sandwiches, quiches, and pizzas to choose from. Don't forget to check out the display case for a slice or a bit of cake. Not to be missed is a scoop of their specialty gelato brand, Dollop. It's made by the talented hands of the owners of Cube and is only available from three locations. It's clearly a favourite of the young and old, no matter the weather, as witnessed by the line-up at the case and the numbers of cones you see up and down the boardwalk.
Another favourite option for us is Silt at Seaport. Whether it's a 'date night' dinner, or a classy seafood lunch, Silt is top of our list. The openness of the dining room offers incredible light during the daytime, creating an airy and fresh feeling that is invigorating. The large windows that surround you on the waterfront side blend the interior with the exterior and make you feel as though you are dining right outside on the waterfront. A glass of wine from their fabulous wine list complements the whole experience nicely.
Another top spot we can recommend is Levee Food Co. Early this past summer we discovered their pizzas and have found it hard to stray past the sunny, umbrella-shaded patio on a casual Sunday afternoon for a 'Mary had a Feta Lamb' pizza, a glass of wine, and some sunshine as a bonus. We've even lured in a number of others to join us here to share the experience, as we truly feel it's one of Launceston's prime spots.
The list of dining choices goes on and on, from the contemporary menu and interior of Mud Bar and Restaurant, to Bellini, Salsa, and of course Fish N Chips. The selection will certainly not leave you wanting for anything other than the time to experience them all!
Seaport is billed as a waterfront apartment and lifestyle development situated at the head of the Tamar, but that is only a part of it. To us, it's a part of our daily routine and one of our favourite spots in Launceston. Whether you are a lifetime local or a tourist, don't miss this area and all the gems it has to offer.
Words and Images: Cheese House Productions