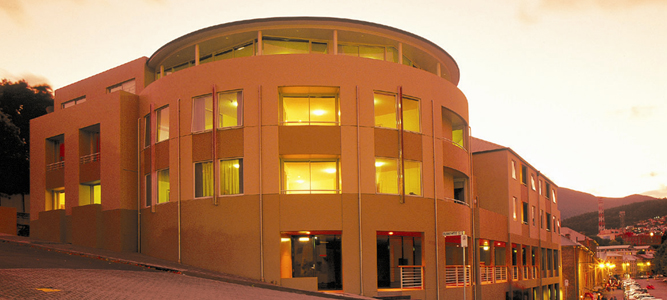 Salamanca Terraces
Magnificently situated at the eastern end of Salamanca Place, guests enjoy the luxury of a fully self-catering apartment plus the full use of one of Hobart's best known and successful hotels, Lenna of Hobart. Salamanca Terraces is operated by Lenna of Hobart, situated directly opposite, which provides the added benefits of comprehensive hotel facilities including 24 hour reception services plus the award winning "Alexander's Restaurant".
Select from our hotel studios, one-bedroom apartments, two-bedroom townhouses and two-bedroom/two-bathroom apartments. Fully self-contained, the one and two-bedroom apartments all feature open-plan living with full kitchen and laundry facilities.
Meanwhile, the hotel studios provide the added convenience of kitchenette facilities including microwave, electric frying pan and bar size fridge, but do not have laundry facilities. Guest laundry facilities are available at Lenna.
When visiting Hobart, be sure to stay in the cultural heart of the city, alongside art and craft galleries, restaurants, waterfront bars and cafes. The renowned Salamanca Markets held every Saturday are accessible by stepping out the front door of Salamanca Terraces.
Salamanca Terraces offers the convenience of in-room broadband internet access. Self catering or self indulgent, Salamanca Terraces offers the best of both worlds.


Click Here to Make a Booking
93 Salamanca Place, Battery Point, TAS, 7004
(Check-in at Lenna reception, 20 Runnymede Street)
Tel: (03) 6232 3900
International +61 3 6232 3900
Freecall: 1800 030 633
Email: enquiries@salamancaterraces.com.au