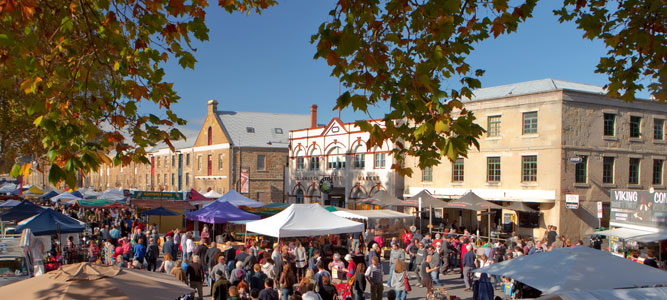 Salamanca Market
Operating every Saturday between a stretch of converted historic sandstone warehouses and clutches of oak trees on Hobart's waterfront, and just a five minute walk from the city centre, the iconic Salamanca Market has been bringing joy into the lives of people for more than 41 years.
The market attracts tens of thousands of locals and visitors every Saturday as they explore the endless collection of Tasmanian-made and inspired woodwork, produce, fashion and crafts that has earned the event a loyal following.
Handmade products include designer woodwork and woodcraft, highlighting the colours and smells of the finest quality Tasmanian timbers, unusual ceramics and pottery, beautiful glassware and jewellery, designer and imported leather and silk and even handcrafted skincare products.
People also come for the great food and music – fresh fruit, crisp organic vegetables, the warm aroma of a coffee and homemade delights, buskers singing the blues, stroking a harp, or strumming a lively folk song.
Salamanca Market is one of those special places where visitors can browse through more than 300 stalls and actually meet the Tasmanian producers, artisans, designers and craftspeople who are selling their wares.
The market is open every Saturday from 8.30am-3pm.
For further details visit www.hobartcity.com.au