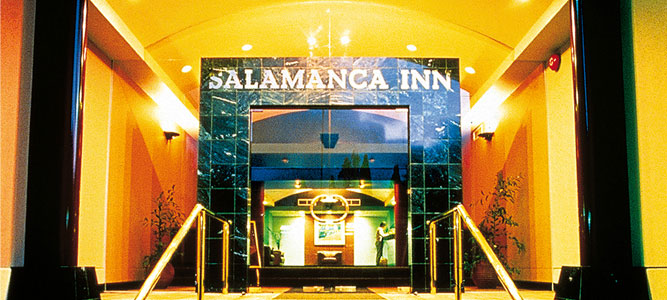 Salamanca Inn
Salamanca Inn is 4.5 star 65 room all suite hotel in the perfect location adjoining the colourful waterfront precinct of Hobart, Australia's most southern capital.
The Salamanca Place area is a centre of tourism activity with Mt Wellington as the backdrop to the River Derwent. It is central to historical Battery Point and on the doorstep of the famous Salamanca Market with its historical sandstone Georgian warehouses dating back to the 1830s which have been converted to restaurant cafes, bars, galleries, antiques and entertainment venues.
Salamanca comes alive with the famous Salamanca Market on Saturdays. Over 300 stallholders sell produce and crafts from all over Tasmania. Where you can buy anything from a handmade wooden toy to a handspun, hand-knitted sweater to a fresh peach to a 50-year-old china plate.
A quick stroll will take you to Battery Point where Kelly's Steps were built in 1839 by the legendary adventurer, sealer, and whaler James Kelly to link Salamanca Place with historic Battery Point. Wandering through one of Hobart's most prestigious suburbs you will come to Hampden Road, another hub of galleries, shops, cafes and restaurants.
On the waterfront you have Constitution Dock, Kings Pier and Elizabeth St Pier where the fishing boats are preparing to head out into the Southern Ocean to catch crayfish, fin fish and squid.
Nearby ferries and cruise boats line up to take you up or down the great Derwent River. Look out for old ketches such as the May Queen or the Lady Nelson.
Salamanca Inn leads right into Hobart's central business district only a five minute stroll across from St David's Park for some great shopping.
Salamanca Inn offers the intimacy of a boutique hotel, but with the facilities of a much larger establishment. This includes the licensed bar and restaurant, 24 hour reception, swimming pool & spa, dry cleaning service, undercover & secure parking, laundry, wireless broadband internet, conference rooms and secretarial services.
Being 100% Tasmanian owned & family operated the accommodation, restaurant, bar and conference facilities are emphasised with utilising Tasmanian products and produce wherever possible.
All suites offer a superior level of comfort featuring contemporary spacious open plan living area, galley style kitchen, luxurious bathroom, beautiful Tasmanian Oak and leather furnishings, Tasmanian Artwork, full size desk and new release movies. Our two bedroom suites offer a mezzanine floor and private balcony. Our queen suites contain personal computers with access to wireless broadband and 46 inch LCD TV's.
We are also very proud to announce the completion of our upgrade. Suites now have a fresh modern interior including new carpet, state of the art bathrooms, Manchester, cabinetry, beds, sheers and soft furnishings. We are always looking at ways to improve the facilities of the hotel and consider ourselves tech savvy with personal computers and phone/ipod docking stations in all 1 bedroom suites.
Our restaurant the "Beef & Seafood Grill" is contemporary-styled featuring Tasmanian myrtle tables with polished aluminium bases, an open char-grill enclosed behind an impressive granite bench and a remarkable sculpture of a Tasmanian tuna fish located at the entrance, created by Tasmanian craftsman Tony Barron. Our cocktail bar is the perfect place for a pre-dinner drink or just a place to unwind, read, watch the television and enjoy the comfortable surrounds.
Salamanca Inn 10 Gladstone Street Hobart TASMANIA 7000 Phone: (03) 6223 3300 Fax: (03) 6223 7167 Email:
info@salamancainn.com.au
www.salamancainn.com.au