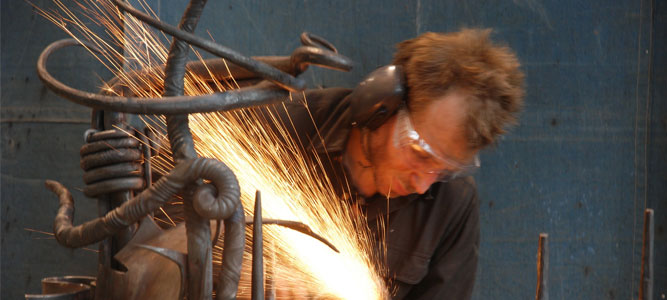 Pete Mattila
The strength and power of forged steel and the beauty and elegance of artistic expression are a unique combination brought together by blacksmith Pete Mattila.
Born in the Upper Peninsula of Michigan in the US, it was in his teenage years that Pete began to experience the world of industrial expression.
"I travelled a lot as a teenager – in those days riding freight trains through almost every state in the US, working in all sorts of industries," he said.
It was during this time that he met Ani, a Tasmanian who later became his wife, and they moved back to her parents' land in Jackeys Marsh, just south of Deloraine in northern Tasmania.
"In 2004 I started a course in heavy metal fabrication, and really liked working with metal as it has a mysterious quality of how it moves under heat and pressure," Pete said.
"While on another trip back to the US I met a lot of blacksmiths, and became inspired by their work.
"My passion has been pulled out of something industrial, but now with an artistic reflection."
Pete is in the US for six months from May to October this year, doing research and spending some time as an Artist in Residence at Redstar Ironworks in Pittsburgh.
He will then return to Tasmania, and feature as the Emerging Artist at the Tasmanian Craft Fair in Deloraine from November 4-7. For details visit www.tascraftfair.com.au
Words: Paula Catchpole