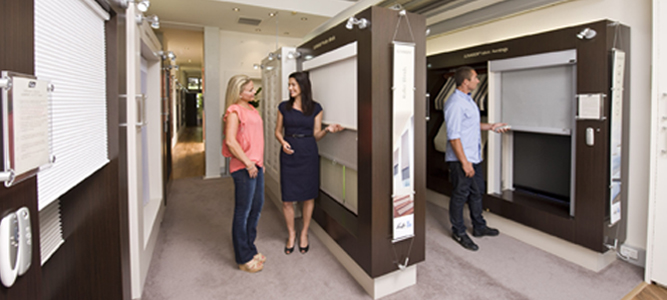 LUXAFLEX Window Fashions Gallery
Your local LUXAFLEX® Window Fashion Gallery has trained specialist sales consultants to help you find the perfect internal window fashion or external shading solution to meet your design and energy efficiency needs year-round.
Each state-of-the-art gallery has full-size products on display, showcasing a comprehensive sample collection and colour range, as well as motorised window coverings and a range of child-safe options that comply with the new national standards. With this outstanding selection of window fashions comes an unrivalled depth of experience.
Our unique Gallery experience provides solutions and inspiration to Australian homeowners and is sure to impress as we make it easy for you to transform your home with an extensive range of products you won't find anywhere else. Luxaflex Window Fashions has been leading the Australian market for over 50 years and our Galleries show why the Luxaflex Window Fashions brand is known for being the best, with a new designer feel and more interactive displays.
Layering neutral colours such as white, cream and caramel throughout the showroom has given it a classic and timeless feel, like the Luxaflex range of window coverings. The beautiful timber finish on each display features more detailed information cards in order to educate and inspire homeowners.
To visualise how the product will look in your home, we have installed light boxes behind some of the sheer products. The light boxes feature scenes such as a garden or ocean views, symbolising the view you would see from your window.
Technology has been integrated into the showroom to provide a more interactive experience and we now have internet-enabled computers, so that we can show you unusual product applications, inspire you with lifestyle images and show more detailed product specification information.
Patterned oversized circular drum lights have been specially designed to sit above the swatching bench where all Luxaflex fabrics can be viewed. The new Gallery is the perfect place for interior designers to meet with clients and decide on colour schemes and window solutions in a professional environment. We welcome and will support any local interior designers who would like to use the Gallery in this capacity.
To ensure complete customer satisfaction, the Galleries offer the exclusive 20/20 Gallery Gold Guarantee. This guarantee allows you to experience your new internal window coverings in your home for 20 days. At the end of this 20-day period, in the unlikely event you are not thoroughly satisfied with your window coverings, contact the Gallery during the next 20 days and they will make a one-time replacement of your window coverings with a Luxaflex

338 Victoria Road, Rydalmere NSW 2116
Phone: 13 LUXAFLEX (13 58 92)
Fax: 1300 367 542