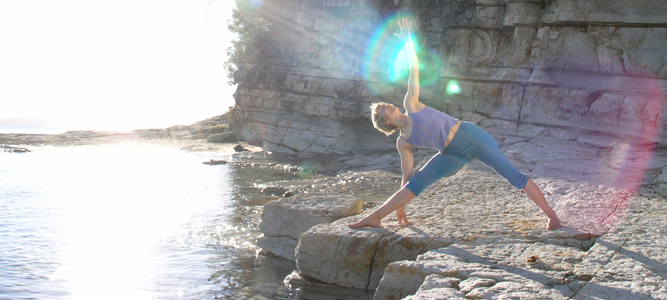 Yoga from the Heart
Tasmanian Life speaks with Clare Raffety from the Lotus Centre in Hobart, about her role within the peaceful inner-city yoga, massage and meditation centre, her own yoga journey, and the benefits of yoga for all.
One familiar element to the many different types of yoga is a distinct feel within the yoga room. It may be a calm sense of silence, a fresh-spiced scent, or dimly lit, allowing one to sit and indulge in doing nothing for a short time. Each space offers instant relaxation – a feat seemingly impossible in an inner-city location neighbouring one of Hobart's busiest multi-storey car parks. But walking through the intricately carved doorframe of the Lotus Centre on Victoria Street, I discover just that: Hobart's hidden yoga haven.
Clare Raffety founded Yoga from the Heart in 2002 and began teaching at the Lotus Centre in 2005. As we chat, her voice echoes softly through the third floor yoga room where she teaches people who I imagine to be supremely fit and flexible yogis. We speak for ninety minutes, and while I shuffle uncomfortably, Clare's posture remains impossibly poised. However, she soon reminds me that everyone begins yoga as a novice. Of her first yoga classes with Nicky Knoff (who now teaches in Cairns) while studying at university in New Zealand, she reveals "my toes would be so far away… it would hurt so much! I was sore before I even left class".
Clare's yoga journey, both teaching and practice (which are two different things, she notes) has seen her travel the world, something the self-confessed homebody would not otherwise have done. Her journey began with an insight into "meaning, consciousness, mind and body" at age 10, when her mother began Transcendental Meditation practice at home in New Zealand. Born in England, Clare's family moved to New Zealand until her parents relocated to Papua New Guinea when she was just 17. After a few months, and despite being 'terrified,' Clare returned back to Wellington alone, where she attended a yoga-nidra class (a guided meditation practice) with a friend. During yoga-nidra, Clare's attention was directed to places within her mind she felt she could not access. She found herself struck with 'an intrinsic need to seek yoga'.
After finishing university in 1987 Clare spent two years in the United States. She trained there as a massage therapist and practised yoga under the guidance of her "beautiful teacher" Janet Hochfeld. Becoming a yoga teacher herself had previously felt out of reach, but in the early 90s Clare completed her International Yoga Teacher accreditation. However, it wasn't until meeting two influential yogis and training with John Friend (founder of Anusara Yoga) that she felt she had the 'tools' to teach the way she wanted to teach.
In 1991, Clare encountered B.K.S. Iyengar, the founder of Iyengar yoga and one of the three main teachers from the Krishnamacharya lineage who are credited with bringing yoga to the West. Participating in his classes, she was struck by his incredible clarity and power. "I remember him walking past and feeling the vibration in the space around me…" Clare's second inspiration was Gurumayi Chidvilasananda of Siddha yoga. In an unremarkable hotel conference room in Auckland, Gurumayi led a Blue Pearl meditation, a yogic chant Clare had never heard before.
"I closed my eyes and chanted, and had the most incredible experience of feeling very connected and happy… and expanded; an incredible sense of the oneness of everything. [When it finished] I opened my eyes and looked around the room to see if others had the same experience, but people seemed to be moving around as if nothing extraordinary had occurred."
Clare returned to the US in 1993, where she and husband Jeff started a family. In her bodywork practice she found she was offering more and more yoga to her clients, and sought further training. Janet recommended she train with John Friend, who created Anusura yoga from his learning with two teachers – B.K.S. Iyenga and Gurumayi; Clare's own influences.
Clare soon began teaching in Janet's studio and at a US Government department, but she and Jeff were looking to return to New Zealand. A job opportunity for Jeff brought them to Tasmania, and "that's as far as we got!"
The Lotus Centre offers a variety of services, including massage, reiki, acupuncture, beauty therapy, hair design and yoga classes to suit all levels of practice and some meeting particular needs, such as pregnancy classes or sessions with a back care focus. Foundation classes introduce students to practices of breath, mindfulness and intention, which are further developed in Deepening and Expansion classes.
Ancient Indian practices of yoga were reserved for men of a certain class, and only in the 9th Century did it become available to householders and women. Since that time, yoga has become more inclusive. Clare's Yoga from the Heart students are diverse in purpose and proficiency, and male and female students of a variety of ages intermingle. Her youngest student is 13 and the oldest "might be 83".
Each Yoga from the Heart class has a distinct theme. "One of the things that distinguishes this type of yoga is a theme for each class which gives the practice meaning: like courage, or balancing effort and freedom or trust. I love poetry and weave it into the class, relating it to the overarching theme and postures that we do in the class. In addition, the yoga term is a journey… over a number of classes we can go into each category of poses more deeply and expand our experience and understanding."
Clare notes not only the physical benefits of yoga, but also the psychological ones. "People come who are unhappy and anxious, nervous systems awry and in stress response mode – and if they can learn breathing practices and postures that shift the nervous system, that can be life changing. I've had people who have gone from feeling unworthy to feeling whole, and that at their essence is goodness… For me, yoga has been an incredible gift, and I'm honoured to share it with others. I feel like I have the best job in the world."
Words: Jessica Lyndon