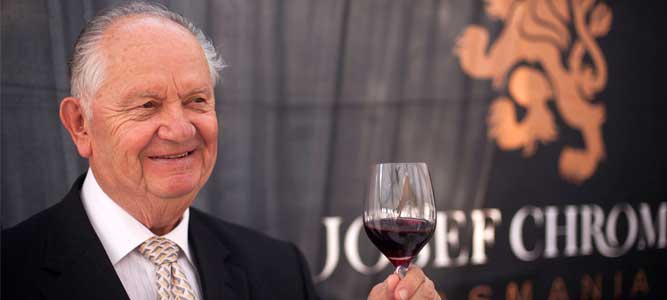 Josef Chromy
Looking back on an amazing life.
In 1950 prominent Launceston entrepreneur Josef Chromy decided to escape his homeland of Czechoslovakia, which had been under Nazi and Soviet occupation since he was a child. He saw the atrocities of war firsthand.
Joe's childhood with his family was otherwise happy and he spent many hours with his father as a young boy in the meat business and it was assumed that he would follow his father in this way. And so Joe went on to complete a master butcher and smallgoods diploma by the age of 19, the youngest at the time to do so in Prague.
From an early age Joe wanted to have his own business and the only way that could happen was by escaping occupied Czechoslovakia. The persecution that his family members would have faced had they known of his escape plans meant that he had to keep them in the dark, a very difficult decision.
Setting off with two friends, they put their escape plan into action. The trio had to traverse the dangerous border between Czechoslovakia and Austria, guarded by minefields and patrolled by soldiers with guard dogs. They all made it across the border, but Joe's two friends were later captured trying to make it to Vienna. They were returned to Czechoslovakia and imprisoned. Joe was able to board another train to Vienna later.
Joe learnt an important lesson on the train that day – always have a backup plan. So too in business – this lesson stood him in good stead in Joe's many business ventures. If option one fails, always have option two at the ready.
Speaking very little German, Joe knew that if he had to speak to the German train conductor he would be caught, so he decided to display his ticket in his breast pocket and pretend to be asleep. However, this ploy was not as successful as he had hoped. He was quite terrified as the conductor woke him, but in shock he instictively acted as if he were deaf and dumb. This split second decision changed his life. Fortunately his performance got him through and the conductor was convinced. Joe continued on his way to Vienna. Starving and with no money, Joe picked fruit, ate pips, slept rough and became a blood donor for food. He was helped by nuns and was grateful for the bowl of soup they gave him each day.
After five long months he had his chance to emigrate and choose a destination. Joe thought the USA was too competitive. New Zealand and Canada appealed, but it was Australia that offered the best opportunities as a young country. He also wanted to get as far away from Communism as he could.
Joe didn't have a penny to his name when he arrived, and what little he was able to amass he spent on new shoes, knowing he would need good footwear to look smart and feel comfortable. He turned 20 on December 18th on the boat to Australia. It must have been an amazing feeling embarking on this momentous journey.
He was sent to Bonegilla Migrant Centre at Albury Wodonga in Victoria where he learnt to swim in the 'big lake', Lake Hume. Some 2½ kilometres across, he tells the funny but poignant story about how after just learning to swim he started out at 3pm in the afternoon and due to the wind and currents arrived on the other side at 7pm! Dogpaddle got him there and then he had to walk all the way back around the lake. He made it back by midnight, only to find his belongings removed from his room and a small crowd gathered saying, "What a nice boy Joey was". They had believed him drowned and were praying for him. One could say he had the very unusual experience of attending his own funeral.
With this experience behind him he saw a job advertised for work in Railton, Tasmania, at the asbestos factory. He was soon to find himself in the state he still calls home to this day.
For 36 years he built his business into the meat empire Blue Ribbon Meat Products in Tasmania, which he developed from the humblest of beginnings to employ over 540 people with almost $80 million in sales turnover.
From the proceeds of the sale of his business on the stock exchange in December 1993 he set up the JAC Group – Joe and Alida Chromy, his beloved wife. For the first time he began investing in the wine industry in Tasmania, which he describes as romantic compared to the meat and smallgoods industry he was involved in for so long. In 1994 the JAC Group bought Heemskerk, Rochecombe (now Bay of Fires) and Buchanan Vineyards. The well-known Jansz sparkling wine was also part of the deal.
The Rochecombe Vineyard acquisition is a great example of what the JAC Group could do. Founded in the late 1980s by Swiss vignerons, it was in receivership due to frosts wiping out its crops three years in a row. Joe stepped in and within six months had a huge dam and irrigation system covering 24 hectares to protect against frost. These measures ensured that the vineyard was never again frost affected. Still not satisfied, he then established from scratch the Tamar Ridge vineyard and winery at Kayena in the Tamar Valley, which grew to become one of the state's leading wineries.
Read more about Josef Chromy and whats in store for the vineyard in the future in Tasmanian Life Magazine issue Spring/Summer 2012
Words: Claire Andrews