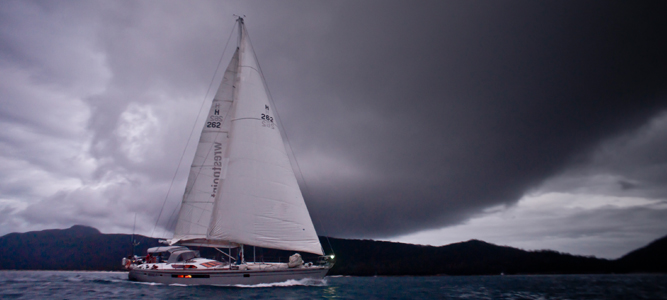 Helsal IV
When Mark and Marsha Stranger bought Helsal IV, it was the realisation of a long held dream to own a yacht and sail Tasmania's wilderness coastline.
Helsal IV is a 62-foot luxury 'cruiser racer', designed by the much-heralded, French naval architect, Phillipe Briand. The cruiser racer designation means it is designed to sail fast. In fact Helsal IV has competed in three Sydney to Hobart yacht races since 2005, yet it is luxuriously appointed, making for a very comfortable ocean getaway.
Mark and Marsha are now chartering the yacht out under the name Tasmanian Yachting Adventures, with a range of different sailing experiences available.
I join the yacht at Freycinet Peninsula on Tasmania's east coast. The yacht is moored beneath Freycinet's famous The Hazards mountain range and the scene looks picture perfect with Helsal IV silhouetted by a setting sun.
We pull up anchor and set sail, heading south, for an evening of cruising down Tasmania's east coast.
One of the immediately obvious traits the yacht displays is the way she doesn't bounce around once the boat is ocean sailing. Bouncing around is common with a lot of racing yachts, as they are so light. The extensive timber fitout in Helsal IV adds weight and keeps her in the water, making for a smooth ride.
Mark and Marsha obviously love the lifestyle that sailing allows, and seem very keen to share that experience with other people. "We do multi-day sailing adventures to the south-west and the east coast for those who want to experience the thrill and adventure of ocean sailing," says Mark. "But we also cater for groups who simply want to spend a summer evening on the river with a few glasses of wine and some good food."
As we sail through the night we are paired up and given three-hour shifts on watch. I'm lucky and get the early shift from 9-12. The yacht feels like a ghost, drifting effortlessly across the waves, and the increasing north-easterly winds on our bow push us along at a consistent 13 knots. After a few hours' sleep, morning brings a perfect sunrise and the imposing cliff faces of Cape Huoy and Tasman Island approach. This coastline has a uniquely Tasmanian feel to it, and there is no better way to see some of its coastal wilderness areas than by boat. Our day is spent fishing, taking photographs and exploring, before mooring at Port Arthur and looking out over the famous convict ruins.
As we sail home the following day Mark talks of his plans for Helsal IV. "We want to tap into corporate racing days. We are in talks with the owners of another Dominique62 that is an identical boat to Helsal IV, about having one-on-one match racing days," he says.
"At the end of the day there are many ways of doing it, but we just want to have fun, and make sure that whoever comes out on the boat is having a great time too."
That evening, as we sit on the yacht in the Derwent River having dinner and a glass of wine, I'm convinced that it will be pretty easy to achieve that goal.
Words & Images: James Emms