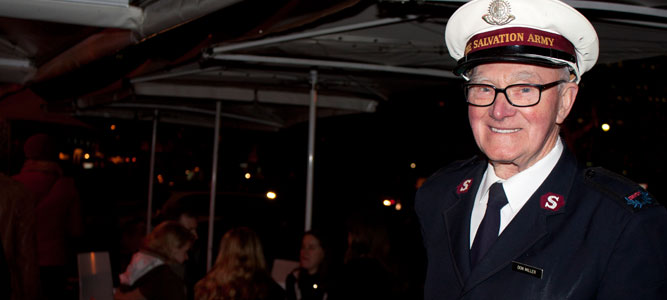 Don Miller: A Life of Contribution
Don Miller will be 80 on February 3rd next year. This is indeed a good age, but otherwise not a remarkable fact in itself. But when you think that this soon-to-be octogenarian is out nearly every Friday and Saturday night in Salamanca collecting money for the Salvation Army, it is truly remarkable, and more remarkable still when you think that he has been doing this on a regular basis for the past 30 years.
Born on the NSW coast at Nowra, Don Miller and his wife Velma came to Tasmania 40 years ago on June 30th this year. Having first come on holidays to Tasmania, they then decided to settle here.
They have five children; three boys and two girls, and all are living in Tasmania bar one, who is on the mainland near Sydney. There are 14 grandchildren in all.
Don and Velma have known each other since Don was 14, when Don met Velma through her brother. Don says he made a mental note that his friend had three sisters, and later when he met "the fair Velma", that was it. They got married in 1961 and embarked on a life together. On August 26th this year, the couple celebrated their 50th wedding anniversary in style, at the Grand Chancellor Hotel in Hobart. All the family were there, with their son travelling from the mainland to attend the celebrations.
Don's father was a nurseryman and sold cut flowers in Sydney. When the couple's life journey brought them to Tasmania, Don's experience with horticulture and gardens led him to embark on various positions involving the keeping and running of gardens. At one stage he was in charge of 40 gardeners at the Royal Tasmanian Botanical Gardens in Hobart. His other duties included administration, garden design and staffing. He did this for six and a half years. Don also worked for the Main Roads Department, one of his tasks being to judge the annual garden competitions, which he remembers fondly. He also managed a large nursery at Kingston for 13 years. He speaks of living outside Burnie at Penna, where the family rented a cottage with a boathouse right at the bottom of the garden, with steps down to the water. It all sounds pretty idyllic. He proudly remembers being responsible for the lovely roadside rockery plantation that is located near Burnie. Don later became a teacher in horticulture after completing a certificate course, and enjoyed teaching in the old university buildings on The Domain, behind the rose gardens in Hobart.
The other constant thread throughout Don's life, besides his family and his work, is his connection with the Salvation Army. His parents met at a Salvation Army meeting and his maternal grandmother was a guiding light in his life. Although she died in 1943 when Don was 11, he still speaks of her with great love and fondness. She was a Salvation Army Officer too, giving him a connection to this constant faith throughout his life. His grandmother came to live with his family, and Don speaks very fondly of the time she had for him and the guidance she gave. Had he not felt motivated to do so before, it appears certain that with her influence he would want to follow in her footsteps.
For the past 14 years Don and Velma's involvement with the Salvation Army has been purely charitable. Their rank as Envoy Officers, which translates to ambassadors for the Salvation Army, is very fulfilling.
Don says it is not about the money, although the amazing amounts he has collected over the years go to what is known as the 'Hobart Core' where the monies are then redirected to areas of need, such as appeals or hostels, and the many services funded by the Salvation Army. He says that what he is really about is spreading the Gospel.
Don's portrait by artist Diana Mickelic hangs in the Republic Bar in North Hobart, as a tribute to a man who has been serving others for most of his life.
Words: Claire Andrew
Images: Ella Richmond