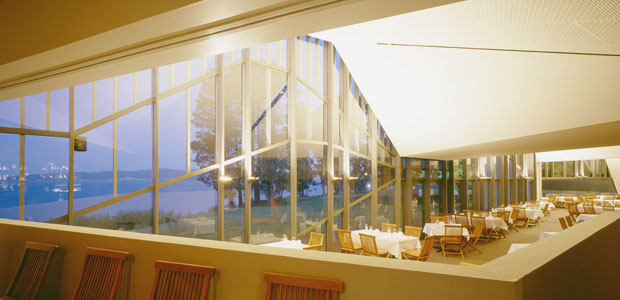 David Moyle & Peppermint Bay
Ben Lindell, manager of Peppermint Bay, got to know David Moyle when both were living in Byron Bay.
Dave would call in to Ben's cafe and Ben was a frequent diner at The Pacific Dining Room where David was chef.
When Ben moved down to Tasmania with his family to manage Peppermint Bay, he convinced Dave to tag along.
David is now head chef at Peppermint Bay and loving life in Tasmania. He has won many awards for his unpretentious and simple cuisine, the most recent being 'best use of regional produce at Delicious Food Awards'. The Stackings restaurant at Peppermint Bay was recently one of only two Tasmanian restaurants voted in the top 100 at the Gourmet Traveller Restaurant Awards and it received a star in the guide. The Stackings is also nominated as one of three restaurants in Australia for Best Regional Restaurant, as well as being one of only three restaurants to receive 4.5 out of 5 in the Australian Weekend Magazine.
Chatting to David, it is easy to see that he takes a cooperative approach and shares ideas with his colleagues in the local area. He is adamant about using local produce, and that very much dictates the menu on a day-to-day basis, as well as following the seasons. In the winter he tends towards heavier, heartier dishes, and stronger meats and fish. The summer and spring find him offering salads of fruit and greens.
David has been cooking for 14 years and he and his sous chef, Richard Gunther make a formidable team. Richard lives locally in the Channel, as do all of the kitchen staff, making it very much a 'family' who know a great deal about the locally-grown produce and how to source only the best for the restaurant and cafe. The setting is certainly idyllic, with picturesque views from the floor-to-ceiling glass windows. The atmosphere is one of relaxed understated comfort, with beautiful lawns and the kitchen's herb garden in full view whilst you dine. There is also an extensive 'veggie' patch adjacent to the property. As well as that, the local farmers and market gardeners drop off fresh produce on a daily basis.
David and Richard use Peter Cooper's 'Tassie Truffles' and Roger Scales' smoked trout from Woodbridge, and only line-caught fish from Mark Eather. They go so far as to even make their own butter when they have time. Life is busy in the kitchen, with The Stackings seating as many as 250 people for functions and events. The staff can easily see hundreds go through in a day during the height of the season.
There are three- and five-course menus to choose from at The Stackings. The reason behind this is that there's a need to use 'what's dropped off' to the kitchen. The menu changes on a day-to-day basis.
David cleverly uses ingredients such as bone marrow and celeriac combined to create the creamy texture associated with risotto. He emphasises the need for relevance to the country of origin for the dishes he serves. David has even brought in a marine biologist and scientist to discover what 'leaves from the sea' is best for the table. This is sourced from right out the front of the restaurant.
David comments that he is strongly inspired by Japanese cooking techniques, and selecting combinations of food to serve together. He feels that this may not be so overtly obvious to the diners, but certainly the influences are there. He comments that he admires the Japanese for the reverence that they have for the individual flavour and texture of a particular meat, fish or vegetable. He explains that they don't try to change it by the cooking process, preferring to use it in an authentic sense to derive the best and purest flavours. David says he tries to emulate this where possible, but stresses that he has no particular style, and acknowledges that he prefers free form in terms of presentation, preferring to feed people well with unpretentiously presented food.
Next year David may be off to start his own venture in either Sydney or Melbourne, but will remain in contact with Peppermint Bay, most likely in a consultative role. He says that Richard Gunther is a godsend. If and when he does depart, David knows he'll be leaving the restaurant in very good hands!
Words: Claire Andrews
Images: Courtesy of Peppermint Bay and Rodolphe Belin