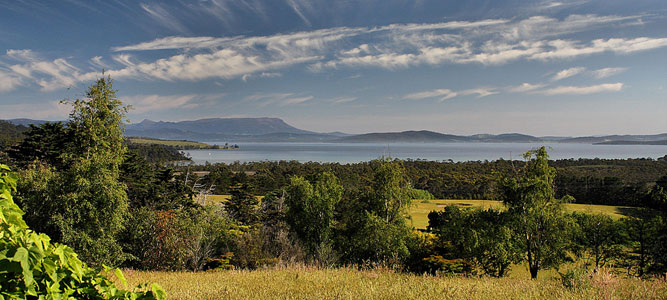 Bruny Island Indulgence Tour
Savouring Tasmanian sights and flavours that have put this ripe little island on the map!
Tasmania is internationally known for its wine, cheese, seafood, fresh fruit and chocolate. If you're lucky enough, you can indulge in them all on a drooling Premium Indulgence tour with local company, Great Expeditions. The tour deliberately throws in Bruny Island – indulging the unforgettable taste of Tasmanian raw scenery definitely puts the icing on the cake.
During summer a berry farm overflows with ripe strawberries which you may pick; a cheese farm rolls out vintage flavours for you to savour; succulent seafood comes from the oyster farm to your plate; the winery shows you what they drink in heaven; the hothouse fires delicious herb damper; the smokehouse delivers succulent salmon; and locally-produced fudge provides a flavour to stay in your heart forever.
Government Education and Training International decided to send a large group of Korean university students and professors on a tour in late August. Unfortunately the winery and fruit farm were not open in winter, so slightly differing attractions were selected as alternate ingredients for the healthy mixture.
A crisp, foggy, early Sunday morning greeted the highly enthusiastic Korean guests and me. Your 'average Joe' is normally sleepy and tired with conditions like that, but the Korean guests had the largest amount of enthusiasm the tour guide had ever seen or heard.
First stop on the island was at Bruny Island Cheese. Host, John's first-rate hospitality skills and knowledge of cheese are exceptional. Not only that, but also his ability to interpret the guests' needs, made his new, drooling, group of 'puppies' double the time they spent there, and double the amount and variety of produce they consumed! One of his mouth-watering specials was dripping Camembert (a.k.a. Saint) and Pinot-soaked cherries!
Driven by the quality coffee from John, hundreds of steps to the isthmus lookout passed underneath our feet like the waves that gently came onto the beach below. The day had cleared and the Great Southern Ocean was as appealing as the strawberries usually picked from the berry farm during the warmer summer months.
The large number of oohs and aahs from the Koreans in recognition of natural beauty was probably akin to the communication amongst local Aborigines as Captain Tobias Furneaux sailed into the bay on HMS Adventure in 1773. It seemed quite appropriate for us as we stood next to Truganini's memorial and paid our respects to the great mother.
After the ingredients of Adventure Bay eye-candy and tasty fudge from a stop at Island Produce Tasmania, our bowl of tastes and bellies started to fill. Something extra special was added by the offer of genetically-unique albino wallabies mixed with tea tree, but we all decided to simply take photos of this dish.
Moving along the Mavista nature walk, the Koreans healthily consumed their salad sandwiches and fruit. Adding a drop of natural, flowing water, a sip of sassafras, sniffs of eucalyptus, and a crack of native pepper, we were all bright, healthy and full of respect for the incredible natural world that completely engulfed us.
Mix in a long, dusty dirt road, a big Mt Mangana and thick, natural bush land on the way to the finishing point of Cape Bruny Lighthouse, and we had definitely indulged in some serious natural scenery. The rugged, salt-crusted cliffs were also a sign that this indulgence tour was nearly over…except for tasting the pickled octopus and freshly shucked oysters on the cheerful journey home.
During summer, lunch is delivered with great hospitality by the Hothouse Cafe, divine morning tea is served by the Bruny Berry Farm and wine tasting is available from Bruny Premium Wines. All Great Expeditions' tours can be tailored to group preferences, so it's common to have guests drinking fine wine or beer during the drive!
Words: Samuel McLennan