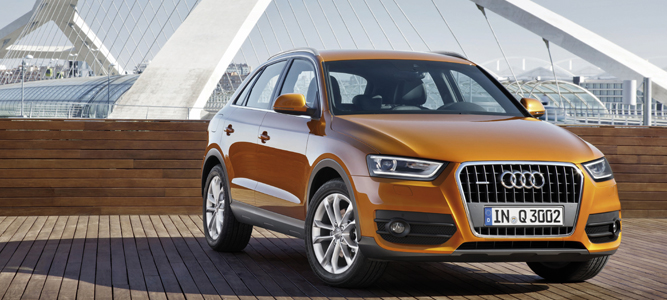 Audi Q3
Built from new expectations, this is the youngest member of the Audi Q model family will soon arrive in Australia. The Q3 is the German manufacturer's first entry into the emerging compact premium SUV market and it follows in the footsteps of its larger siblings: the Q5 and the Q7.
In typically Audi fashion, the Q3's design is sophisticated and sporty, providing a strong hint as to what lies beneath the swooping low roofline. The Q3 has an almost coupe-like appearance, with sharp edges framing elegantly arched sheet metal surfaces. The wedge-shaped headlights are optionally available with xenon plus units and LED daytime running lights, which really gives the Q3's front-end a distinctive appearance. Like other Audi Q models, the undivided tail lights are integrated into the tailgate, which wraps around the rear of the car.
Audi's progressive technology is as prevalent in the Q3 as it is in other cars throughout the range. The bonnet and tailgate are made of aluminium to ensure a low kerb weight, which starts at 1445kg. As with all other Audi models, the Q3 provides the maximum five-star safety for its occupants. This comes through the use of ultra-high strength steels in the passenger safety cell.
The engine line-up for Australian Q3 models will be announced when the car goes on-sale, but there are three different models available internationally.
The frugal 103kW 2.0 TDI could prove to be a popular choice, with a future front-wheel-drive variant sipping just 5.2 litres of diesel per 100km. The two different petrol 2.0 TFSI engines produce 125kW and 155kW, and together with the 2.0 TDI, are initially available with Audi's slick-shifting S tronic dual-clutch gearbox with quattro all-wheel-drive.
The list of features available on the Q3 is extensive, headlined by a host of driver assistance systems. The park assist system makes easy work of tight parking spaces, manoeuvring the Q3 into them in a seemingly autonomous fashion: all the driver has to do is apply the throttle and brake. Side assist employs radar to help change lanes, while active lane assist makes subtle steering corrections as necessary to stay in the lane.
Topping the range of options is the hard-drive navigation system MMI navigation plus, which displays high-resolution 3D graphics on a fold-out 7.0-inch colour monitor, while the optional Bose surround sound system delivers 465 watts of power to 14 speakers to satisfy the most demanding audiophiles.
Specification and pricing is yet to be confirmed ahead of the Q3's imminent Australian launch, but it is expected to be competitive against its chief rivals, the Range Rover Evoque and the BMW X1.
To arrange a viewing or test drive of the Audi Q3, contact Audi Centre Hobart. For more information, visit
www.audicentrehobart.com.au