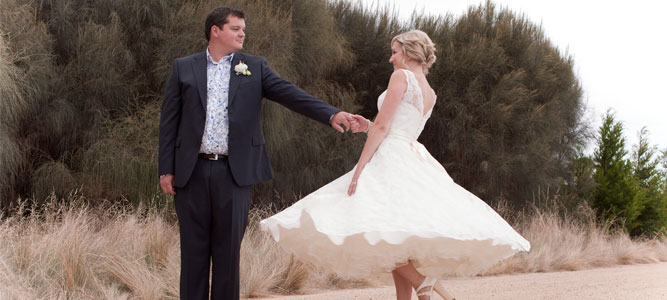 Amy & Josh
Our day was filled with treasured memories, love, laughter and lots of fun!
Our photographer did the most amazing job at capturing our wedding just as it happened.
To us, the small things in life matter and make a difference. That's why when we started organising our wedding, every minor detail was thought through.
The main priority was that everything had some meaning to us and everything had a story. We love old, worn, well-loved antiques that tell a story and I scoured the globe, literally, for antique English china cups, saucers, plates, bottles, vases – the list goes on.
Catering was by Tasmanian Gourmet Kitchen and as we are keen food and wine enthusiasts, having local ingredients, a local chef and only the best Tasmanian cold climate wine was very important to us. Caroline and her team impressed our guests with their mouth-watering dishes. Guests were served a Bay of Fires light sparkling with canapés and later in the evening a full Tasmanian wine list together with the most luscious feast anyone could imagine.
I walked down the aisle to The Beatles' 'Here comes the Sun' and I truly felt like I was walking on a cloud. To see my soon-to-be husband standing on the deck, with the most beautiful backdrop and surrounded by all the people we love, was something that I will never forget. In those few seconds my world had stopped and I was in a state of overwhelming happiness. The hardest part was not running into Josh's arms and giving him a great big hug!
The bridal waltz turned out to be the most fun part of the evening, we asked each and every guest to join us on the dance floor. What fun! Again, we love The Beatles and it was the golden oldie, 'Eight Days a Week' that made the room come to life. With only 40 guests it was an intimate gathering and such fun the entire night.
Our venue, Avalon Coastal Retreat, was chosen because of its natural beauty and stunning location. It is right across the water from a place we love to holiday – Schouten Passage. Hopefully, one day, we can look up at the breathtaking house on the hill where we got married and tell our children all about our wonderful wedding.
Images: 35mm Fashion Photography