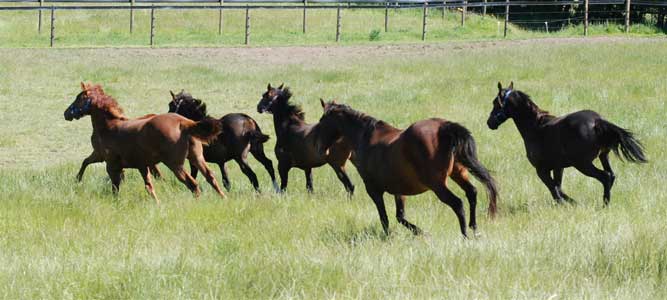 Aceland Stud Farm
Purchased in 2005 by Alwyn "Ace" Shaw and his wife, Judy, aceland Stud is based at Whitemore, in Tasmania's North, on 1100 acres of superb pastures sustained with unlimited fresh water and wonderful clean, fresh air.
Alwyn (or Ace to many) is turning his dream to create a world class stud into a reality; he has developed an expansive knowledge of bloodlines and has sought advice from a long list of breeders, trainers and industry specialists.
The aceland Mission is to create a dynasty of classic thoroughbred racehorses in Tasmania, and to grow aceland Stud into an International showcase property utlising the clean air, fresh water and pure crops for feed.
Situated on Latitude 41 degrees South aceland Stud Farm has the perfect environment to breed strong boned, muscular foals, who love to run and run to win! With an abundance of nature's gifts it's no idle boast to say aceland will breed Group winners
The setting in Tasmania's Meander Valley, about 20minutes from Launceston, is a photographer's dream. Rolling green paddocks extending to the horizon merging with the foothills of the high country, the source of the unlimited fresh water for the property.
Alwyn believes that by promoting Tasmania and in particular the Meander Valley as a world class thoroughbred breeding region, there is potential to change the economy of Tasmania through National and International tourism; by exporting quality racehorses and breeding stock and creating employment for University graduates and apprentices; and establishing a recognised career pathway for the thoroughbred industry in Tasmania.
With tourism already a major industry for the region aceland Stud Farm is also investigating opportunities to participate. Alwyn and the aceland team have met with Tourism Tasmania to understand the needs of the industry and to determine where aceland Stud and Whitemore House can fit into the Tourism Tas business plan.
Alwyn is also liaising with UTAS undergraduates about a series of projects including a study of muscle development in horses, and has had one Student complete a project for him on future opportunities the stud could pursue, and provide for the community.

Aceland Stud Farm
80 Whitemore Road Whitemore TAS 7303 Phone: (03) 6397 0209 / 0400 873 857 Fax: (03) 6397 0225 Email:
aceland@aceland.com.au
www.aceland.com.au